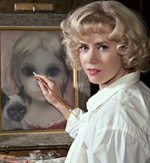 Set for a Christmas release, Big Eyes is a film that tells the story of Margaret Keane. An artist particularly noted for her paintings of girls with larger-than-life eyes, Keane initially received no recognition for her work as it was her husband, Walter Keane, who took all the credit.
Big Eyes, Big Cover Up
Keane's works have been described as 'kitsch'. They began as portraits of her daughter, before evolving into her recognisable style: melancholy images featuring waif-like children. Her illustrations became immensely popular, but sadly she received no credit for her work. Walter Keane, her husband at the time, claimed to be the artist responsible, becoming a national celebrity in the process. Walter engineered the painting's wide distribution, mass producing the art so that they could be sold cheaply at a wide range of stores across the U.S.
The truth emerged when Margaret and Walter's marriage broke down. The lies had created a huge rift between the couple and the two faced off during an infamous courtroom showdown. Now, thankfully, Margaret is credited as the true artist of her distinctive body of work. Her paintings helped bring widespread recognition to kitsch art and by association, Lowbrow art (sometimes known as pop surrealism) too.
Highs-and-Lowbrow
Though its exact origins are unclear, Lowbrow art is generally thought to have originated in the U.S. during the 1970s. Most popular in Los Angeles, California, Lowbrow art enjoyed widespread success. The movement has struggled to enjoy true critical success, so in 1979 when Robert Williams had his collection of pairings published, he titled it 'The Lowbrow Art of Robt. Williams' in opposition to the more respected 'highbrow' art forms. Though later being quoted as saying he thought of the term 'Lowbrow' as inappropriate, the name has stuck and many other artists are more than happy to contribute to this ironically-named movement.
Unfortunately, this issue of nomenclature seems to accurately encapsulate the ongoing struggle Lowbrow art has endured with its relation to fine art. There's still very little critical writing on the subject and many institutions seem unclear on the movement's status in the art world. Instead, the art itself has enjoyed far-ranging popularity and pieces are widely sold, either as artworks in their own right, or as designs for hand-crafted products.
Often associated with a veiled messages, vivid colour schemes, humour and sarcasm, itʻs not hard to see why Lowbrow art has been cemented as something of significant cult status. Many of the works have inherited influences from the pop culture surrounding it, be it TV, cartoons, psychedelics, music trends and more. This makes the Lowbrow movement innately more relatable as an art form and perhaps itʻs the very struggle for respect that it faces, that makes it all the more charming.
Upcoming Calendar and Art Book
The new year is almost upon us and in true Flame Tree fashion, we have a variety of calendars to suit your needs. Our Lowbrow Art 2015 calendar features 12 stunning illustrations and paintings that cover a variety of styles within the Lowbrow movement. You can see a couple of sample spreads below. To order the calendar now with free UK delivery, just click here.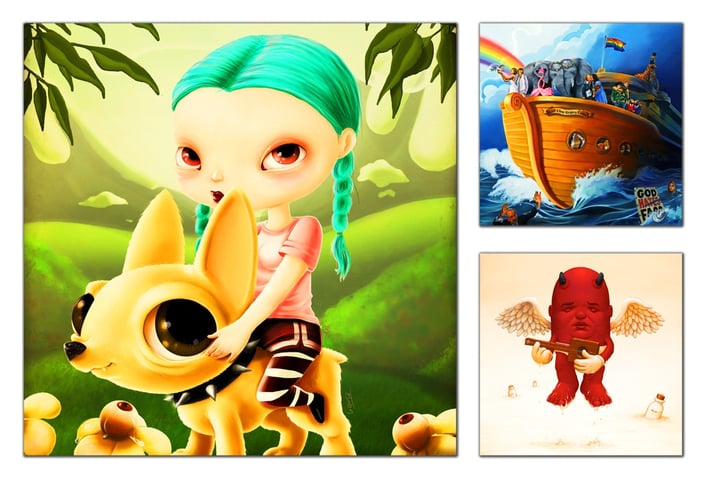 Next year we will also be publishing a Lowbrow Art book. The latest addition to our Gothic Dreams series will feature the same informative text and eye-popping images that you should come to expect from a Flame Tree art book. For a preview of this upcoming title, click here.
Let us know if youʻre excited for a our Lowbrow Art book, or if youʻre planning to buy our calendar by leaving a comment below.
For more amazing lowbrow art, check out Jasmine Becket-Griffith. A talented artist who will be featured in our Lowbrow Art book.
Links
Check out Margaret Keane's official website here

From Bright Eyes to Mr. Turner, look at some other artist bopics here