Today we are continuing with our series of blogs to celebrate our January releases! Following on from our Q&As with Catherine Cavendish and Daniel Besien, we are now turning to our third Januray release author, Jonathan Janz. He talked to us about what he read growing up and what inspired Savage Species!


What is the book about?
Essentially, it's a man vs. nature survival horror novel in which man incurs the fury two species of creatures by transforming a quiet, natural setting into a state park. From there, I take the Wendigo myth and run with it.
What would you say are the underlying themes of the book?
The novel explores a theme we often see in zombie novels (though this one doesn't have zombies), which is how man is the most frightening monster. The evil in this book comes not only from the two types of creatures, but from a character whom society views as completely well-adjusted. This notion of man-as-predator really informs one of the story's main plot threads.
Did real life experiences bring about any of the plot of this tale?
The state park in the novel is real, though it has a different name in the novel. The places the novel describes are real, and I hope that brings a sense of verisimilitude to the book.
What about that particular setting stimulated your imagination?
Oh man, everything about the setting stimulated me. What's so cool about a state park is its intrinsic variety. Off the top of my head, there's a campground, a subterranean network of caves, a playground surrounded by dense forest, a secluded road, a house nestled in the woods, and a steep array of hills.
You're right, there are already so many places you can go from there. A lot of readers enjoy knowing what writers read, and what inspired their stories. What are some of your favorite survival horror books?
One book that influenced this one was Richard Laymon's THE WOODS ARE DARK. I loved how in that book, anything was possible. Just when you thought it couldn't possibly get worse for the main characters, it did. Then it got a hundred times worse from there.
Which writers would you say influenced you most in the writing of the book?
The authors most responsible for SAVAGE SPECIES are Richard Laymon, Brian Keene, and Richard Matheson. Laymon, especially, informed the vibe of this book. It's fast-paced, visceral, twisty, and hopefully, scary and fun.
More generally, which writers did you read growing up?
Stephen King above all. He's the writer who made me a reader, a writer, and an English/Creative Writing teacher. Also integral have been writers like Richard Matheson, Elmore Leonard, Joe R. Lansdale, Jack Ketchum, J.K. Rowling, Ray Bradbury, and Brian Keene.
We've been asking authors about their writing practices, can you talk a little more about your writing practices? How do you plan a story, if you do plan it? Do you know the framework of how the story will go or do you let it come to you as you write?
I usually have a vague idea of where a story MIGHT go, but I don't outline and I pretty much let the characters take the wheel and determine the course of the story. This works best for me, as it allows me to relax and let the characters develop organically.
That's a very interesting insight into the way your stories form! Before we finish can you tell us what you are currently working on?
I'm currently editing the sequel to CHILDREN OF THE DARK and hope to have it published within a year or so. It's going really well. I'm also getting ready to return to a work-in-progress called MARLA, which is also going really well. I'll be starting a new book this summer.
Thank you Jonathan!
Thank you to Jonathan for taking the time to speak to us about his writing practices, his inspirations and telling us a little about Savage Species. You can pick up this new FLAME TREE PRESS edition of his book, along with the other January releases, from Thursday the 10th January 2019. It will be available in paperback, hardback and ebook. Check out our website for details.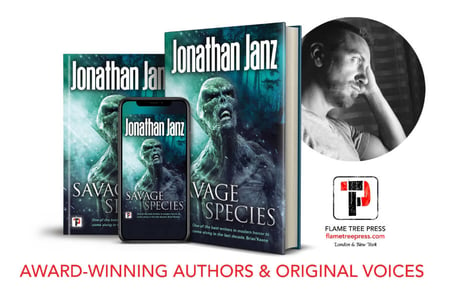 Jonathan Janz grew up between a dark forest and a graveyard, which explains everything. Brian Keene named his debut novel The Sorrows "the best horror novel of 2012." The Library Journal deemed his follow-up, House of Skin, "reminiscent of Shirley Jackson's The Haunting of Hill House and Peter Straub's Ghost Story."
Since then Jonathan's work has been lauded by writers like Jack Ketchum, Edward Lee, Tim Waggoner, Bryan Smith, and Ronald Kelly. Novels like The Nightmare Girl, Wolf Land, Savage Species, and Dust Devils prompted Thunderstorm Books to sign Jonathan to an eleven-book deal and to give him his own imprint, Jonathan Janz's Shadow Side. His novel Children of the Dark received a starred review in Booklist and was chosen by their board as one of the Top Ten Horror Books of the Year (August 2015-September 2016). Children of the Dark will soon be translated into German and has been championed by the Library Journal, the School Library Journal, and Cemetery Dance. In early 2017, his novel Exorcist Falls was released to critical acclaim.
Jonathan's primary interests are his wonderful wife and his three amazing children, and though he realizes that every author's wife and children are wonderful and amazing, in this case the cliché happens to be true.
Check out all of the January Releases blog posts!