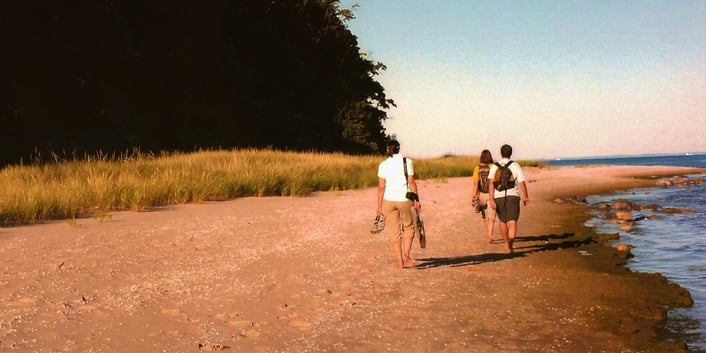 Travelling the world can be a hugely exciting and life changing experience as there are so many incredible sights to be seen. If you are thinking of jetting off, or have already booked your tickets, you're probably pretty excited. However before you go take a look at our top tips that may help you make the most of your journey.
1) Be careful not to over-pack
Stuffing your suitcase full to the brim is all well and good at home, but when you exceed the airline luggage allowance you may be faced with a hefty fine. For those who are backpacking, you really don't want to haul around unnecessary weight. Avoid these scenarios by planning your outfits ahead and remember to be practical at the same time.
2) Get lost on purpose
One of the best ways to really experience everything a country has to offer is to get lost. You may stumble across a hidden gem that you otherwise would never have found, and also have an opportunity to mix in with the locals. Take a copy of your address just in case you need to hail a taxi, but otherwise enjoy.
3) Take a scarf
This is one of the most versatile pieces of clothing you can pack. It can be used if you need to cover up a bit when visiting the stunning Cathedrals of Rome, to protect you from the sun and even double as an eye mask when trying to catch up on some sleep. Handy.
4) Try and make contact with the locals
Asking for local advice is a fantastic way to immerse yourself into the culture of your chosen location. They can tell you the best places to eat and drink, recommend sights off the beaten track and perhaps even tell you a bit about the history of where you're staying.
5) Make copies of important documents
You never know what will happen during your time away, and so preparation is key. Ensure you make copies of your passport, visa documents (if you have them), birth certificate, driver's license and important phone numbers. It doesn't hurt to carry an address of your embassy in case you come across any serious trouble.
6) Get up early
By waking up an hour earlier you'll be able to skip the tourist queues and really make the most of your day. With nobody around you'll have first pick of things to do and be able to take the best photos with no crowds harbouring in the shot.
7) Take time to research your accommodation
Although you may only use your accommodation as a place to sleep, still research it. For those on a budget, don't assume that the cheapest place will be the best. Make sure you check reviews and ensure you know exactly where it is located to avoid any necessary confusion on arrival.
8) Avoid taking a sleeping bag
They take up a lot of room and can add extra weight to your luggage- not ideal for backpackers. A great alternative is to take a sheet that has been sewn in half, and use that instead!
9) Catch a train
For those travelling in Europe, making use of the railway system is a great way to travel between and around countries. Many of the views you will capture from the train window will be worth the long journey, and the prices can be very reasonable too. Whether it's the rolling countryside of the Czech Republic or the beautiful mountains of Austria, there is so much to see without even stepping off the train.
10) Take a decent camera
Pictures make the best souvenirs, so make sure your camera is of decent quality so that you can capture those beautiful sunset shots. If you have a battery run camera, taking extra batteries is essential so you don't miss out when the perfect photo opportunity arises.

If you're a fan of travel then you'll love our new book Best-Kept Secrets of Europe. Packed with stunning photography and useful information on a range of incredible destinations, this is a fantastic title for those with a passion for adventure. Take a closer look at the title here. Also available on Amazon here.