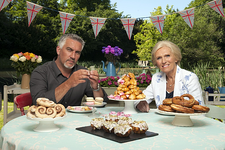 I am so suggestible when it comes to food! The Great British Bake Off episode on Bread – talk about food porn – had me craving that awesome freshly baked bread vibe you only get when you do it yourself. So I had a look for a yummy homemade bread recipe and turfed up this tasty focaccia – thought I would try something a bit different from your classic loaf…

Rosemary & Olive Focaccia Recipe
Ingredients
700 g/11⁄2 lb strong white flour

pinch salt

pinch caster sugar

7 g/1⁄4 oz sachet easy-blend dried yeast

2 tsp freshly chopped rosemary

450 ml/3⁄4 pint warm water

3 tbsp olive oil

75 g/3 oz pitted black olives, roughly chopped

sprigs of rosemary, to garnish
To finish
3 tbsp olive oil

coarse sea salt

freshly ground black pepper
Method
Preheat the oven to 200˚C/400˚F/Gas Mark 6, 15 minutes before baking. Sift the flour, salt and sugar into a large bowl. Stir in the yeast and rosemary. Make a well in the centre.

Pour in the warm water and the oil and mix to a soft dough. Turn out on to a lightly floured surface and knead for about 10 minutes, until smooth and elastic.

Pat the olives dry on kitchen paper, then gently knead into the dough. Put in an oiled bowl, cover with clingfilm and leave to rise in a warm place for 11⁄2 hours, or until it has doubled in size.

Turn out the dough and knead again for a minute or two. Divide in half and roll out each piece to a 25.5 cm/10 inch circle.

Transfer to oiled baking sheets, cover with oiled clingfilm and leave to rise for 30 minutes.

Using the fingertips, make deep dimples all over the dough. Drizzle with the oil and sprinkle with sea salt.

Bake in the preheated oven for 20–25 minutes, or until risen and golden. Cool on a wire rack and garnish with sprigs of rosemary. Grind over a little black pepper before serving.
Bob's your uncle! I'm a sucker for oily focaccia goodness!
Tasty Tip
Instead of the rosemary, try a little chopped sun-dried tomatoes. Knead the tomatoes into the dough along with the olives in step 3, then, before baking, drizzle with the oil and replace the salt with some grated mozzarella cheese. Yum!
Links
Or try out a fruit-based focaccia and have fun with the kids while making it here

I reckon Paul Hollywood would seethe with outrage: check out 'The Famously Crusty Baguette Goes Soft As Customers Demand a Doughier Loaf' here

If you fancy getting more into 'artisanal' bread making, perhaps you need to kit yourself out with supplies from somewhere like this