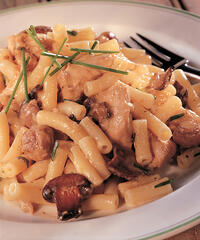 As I sat down to choose the third recipe in my series of Top 10 Simple Recipes for College Students, I thought to myself 'what do all students like to eat?' And what was the first thing to pop into my head? Yep, you've guessed it, pasta! So I set out to find a tasty and delicious pasta recipe that is easy to make and definitely a step above the pesto-and-pasta classic! So roll up your sleeves, step into the kitchen and rustle up some Creamy Chicken & Mushroom Macaroni, perfect comfort food as the evenings start to draw in!
Ingredients
Makes 1 large portion
125 g/4 oz macaroni

40 g/11⁄2 oz butter or margarine

50 g/2 oz button mushrooms, wiped and halved

75 g/3 oz cooked chicken, skinned and chopped

2 tsp cornflour

300 ml/1⁄2 pint semi-skimmed milk

50 g/2 oz Cheddar cheese, chopped

1 tsp freshly chopped sage (optional)

1 tsp freshly chopped chives, plus extra chive leaves to garnish (optional)

salt and freshly ground
Method
Bring a large pan of lightly salted water to a rolling boil. Add the macaroni and cook according to the packet instructions, or until al dente.

Meanwhile, melt the butter or margarine in a large frying pan, add the mushrooms and cook for 5 minutes, or until golden, stirring occasionally. Add the chicken to the pan and cook for 2 minutes, stirring occasionally.

Blend the cornflour with a little of the milk in a jug to form a smooth paste, then gradually blend in the remaining milk and pour into the frying pan. Bring to the boil slowly, stirring constantly. Add the cheese and cook for 2 minutes, stirring until melted. Stir in the sage, if using, and chives. Season to taste with salt and pepper. Drain the macaroni thoroughly and return to the pan. Pour the chicken and mushroom sauce over the macaroni and stir lightly to coat. Tip into a warmed serving dish, and serve immediately with extra cheese, if liked.

Keep leftovers overnight in the refrigerator in a clean bowl covered with clingfilm. To reheat, place into a small saucepan and heat on the hob stirring frequently, until piping hot. The microwave could also be used to reheat. Simply pierce the clingfilm 2–3 times then heat on High for 1–2 minutes, remove and stir. Continue to heat for 2 minutes or until the macaroni and chicken are piping hot. Allow to stand for 1 minute. Either way you may need to add a little more milk.
And there you have it, quick and easy recipe number three in your repertoire. The ingredients in this recipe are either things you are likely to have in the cupboard, or can be bought easily and cheaply at any supermarket. If you've got friends over why not increase the amount of macaroni (approx 100 g per person is a good guide) and double the cheese sauce for a hearty meal that wont break the bank. Serve up with fresh salad or peas to hit that five-a-day target.
For more recipes for college students including soups, curries, hearty meals, noodle dishes and desserts check out The Student Cookbook and check back to this blog for more in the series 'Top 10 Simple Recipes for Students'.
Links
Do you love pasta? Find out why it's so great here

Inspired to make your own pasta? It's not that hard and uses simple ingredients, find out how here

Other posts from Top Ten Student Recipes here