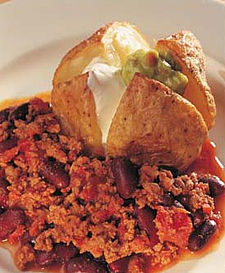 I don't know about you, but one of my favourite things about winter has to be cosying up in warm, wooly jumpers accompanied by good friends and a plateful of homemade food hot from the oven. Things may be a little more draughty away from home, so being at uni is even more reason to indulge in warming feasts. If you are looking for a filling and healthy winter warmer, look no further than this Chilli Con Carne with Crispy Jacket Potato – another one to add to the list of fantastically simple recipes!
A perfect balance of comforting carbs and tasty meat, this easy recipe is great for the bank balance as it is pretty much wholly comprised of cheap and easily available ingredients. If you are vegetarian, don't stop reading! This recipe can be easily adapted by simply replacing the beef mince with an equal quantity of Quorn mince.
Chilli Con Carne with Crispy Jacket Potato
Ingredients
Makes 1 large portion
1 tbsp vegetable or sunflower oil, plus extra for brushing

1 small onion, peeled and finely chopped

1 garlic clove, peeled and finely chopped

1⁄2–1 red chilli, deseeded and finely chopped (optional)

175 g/6 oz lean beef mince

1–2 tsp, depending on heat tolerance, chilli powder

200 g/7 oz canned tomatoes, chopped

2 tsp tomato purée

100 g/31⁄2 oz canned red kidney beans, drained and rinsed

1 large baking potato

coarse salt and freshly ground black pepper
To serve:
ready-made guacamole (optional)

Greek yogurt or natural yogurt

Method
1. Preheat the oven to 150˚C/300˚F/Gas Mark 2. Heat the oil in a flameproof casserole and add the onion. Cook gently for 5–8 minutes until soft and lightly browned.
2. Add the garlic and chilli, if using, and cook briefly. Increase the heat. Add the lean mince and cook for a further 5 minutes, stirring occasionally, until browned.
3. Add the chilli powder and stir well. Cook for about 2 minutes, then add the chopped tomatoes and tomato purée. Bring slowly to the boil. Cover and cook in the preheated oven for 11⁄2 hours.
4. Remove from the oven and stir in the kidney beans. Return to the oven for a further 15 minutes. Meanwhile, brush a little vegetable oil all over the potato and rub on some coarse salt. Put the potato in the oven alongside the chilli.
5. Remove the chilli and potato from the oven. Cut a cross in the potato, and then squeeze to open slightly and season to taste with salt and pepper. Serve with the chilli, guacamole and yogurt.
6. Keep any remaining cooked chilli in a clean bowl covered with clingfilm in the refrigerator for up to 2 days. Or, place in a freezer bag, label and date. Freeze for up to 2 weeks and thaw in the refrigerator for at least 8 hours. To reheat, spoon into a small saucepan, place over a gentle heat on the hob and cook, stirring, for 8–10 minutes, adding a little extra stock or water if looking dry. Or, heat in a small bowl covered with clingfilm and pierced 2–3 times on High in the microwave for 2 minutes. Stand for 1 minute, then stir before eating. Serve with freshly cooked rice.
If you are feeling super hungry and can't wait long enough to cook this meal in the oven, you can cook the chilli on the hob for 30–35 minutes and microwave the potato for 4–5 minutes. The end result won't be quite so crispy and flavoursome but it will still taste great and satisfy that hunger! If you enjoyed this recipe check out the others in the 'Hearty Meals' section of The Student Cookbook.
Links