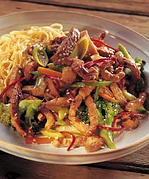 This week's recipe is the penultimate one in the Simple Recipes for Healthy Eating series, so I thought it best to have something with a bit of oomph. With its oriental vegetables and chilli kick, this recipe for Teriyaki Turkey with Veg is both wholesome and delicious, and will leave you feeling satisfied and pepped up to make the most of the bright Spring weather we've been experiencing lately.
Turkey is a lean meat so this recipe offers great taste without the added fat and cholesterol that can sometimes accompany meat dishes. If you don't have the specific vegetables listed in the ingredients, just use whatever you have – especially if it's seasonal and fresh – as the teriyaki flavouring will always shine through.
Teriyaki Turkey with Oriental Vegetables
Serves 4
Ingredients
1 red chilli

1 garlic clove, peeled and crushed

2.5 cm/1 inch piece root ginger, peeled and grated

3 tbsp dark soy sauce

1 tsp sunflower oil

350 g/12 oz skinless, boneless turkey breast

1 tbsp sesame oil

1 tbsp sesame seeds

2 carrots, peeled and cut into matchstick strips

1 leek, trimmed and shredded

125 g/4 oz broccoli, cut into tiny florets

1 tsp cornflour

3 tbsp dry sherry

125 g/4 oz mangetout, cut into thin strips
To serve:
freshly cooked egg noodles

sprinkling of sesame seeds

Method
1. Halve, deseed and thinly slice the chilli. Put into a small bowl with the garlic, ginger, soy sauce and sunflower oil.

2. Cut the turkey into thin strips. Add to the mixture and mix until well coated. Cover with clingfilm and marinate in the refrigerator for at least 30 minutes.

3. Heat a wok or large frying pan. Add 2 teaspoons of the sesame oil. When hot, remove the turkey from the marinade. Stir-fry for 2–3 minutes until browned and cooked. Remove from the pan and reserve.

4. Heat the remaining 1 teaspoon of oil in the wok. Add the sesame seeds and stir-fry for a few seconds until they start to change colour.

5. Add the carrots, leek and broccoli and continue stir-frying for 2–3 minutes.

6. Blend the cornflour with 1 tablespoon of cold water to make a smooth paste. Stir in the sherry and marinade. Add to the wok with the mangetout and cook for 1 minute, stirring all the time until thickened.

7. Return the turkey to the pan and continue cooking for 1–2 minutes or until the turkey is hot, the vegetables are tender and the sauce is bubbling. Serve the turkey and vegetables immediately with the egg noodles. Sprinkle with the sesame seeds.


Links