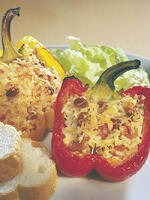 The sun's out, and with better weather comes garden parties, barbecues and delicious summery, simple recipes. This is a great time of year to start experimenting with fresh vegetables and healthy eating - cooking dishes that just don't compare to a roast in the middle of winter.
Peppers are a versatile and delicious ingredient (also, one of my favourites). They're great because they do not only liven up other dishes, but can also be used to house other equally healthy and tasty foods. In fact, that's what we're going to do today. Even culinary novices should have no trouble stuffing peppers; it's a fun and easy way to impress your friends and family, plus it adds tonnes of flavour to a dish.
This simple recipe will transport you to the Med in only roughly 45 minutes. With a range of fresh vegetables and a few spices I'm going to help you put together a healthy, inexpensive and perfectly summery dinner. So, let's get to it!
Rice-Filled Peppers
Ingredients
Serves 4
8 ripe tomatoes

2 tbsp olive oil

1 onion, peeled and chopped

1 garlic clove, peeled and crushed

1/2 tsp dark muscovado sugar

125 g/4 oz cooked long-grain rice

50 g/2 oz pine nuts, toasted

1 tbsp freshly chopped oregano

salt and freshly ground black pepper

2 large red peppers

2 large yellow peppers
To serve:

Method

Preheat oven to 200˚C/ 400˚F/Gas Mark 6. Put the tomatoes in a small bowl and pour over boiling water to cover. Leave for 1 minute, then drain. Plunge the tomatoes into cold water to cool, then peel off the skins. Quarter, remove the seeds and chop.

Heat the olive oil in a frying pan, and cook the onion gently for 10 minutes, until softened. Add the garlic, chopped tomatoes and sugar. Gently cook the tomato mixture for 10 minutes until thickened. Remove from the heat and stir the rice, pine nuts and oregano into the sauce. Season to taste with salt and pepper.

Halve the peppers lengthways, cutting through and leaving the stem on. Remove the seeds and cores, then put the peppers in a lightly oiled roasting tin, cut-side down and cook in the preheated oven for about 10 minutes.


Turn the peppers so they are cut side up. Spoon in the filling, then cover with tinfoil. Return to the oven for 15 minutes, or until the peppers are very tender, removing the tinfoil for the last 5 minutes to allow the tops to brown a little.


Serve 1 red pepper half and 1 yellow pepper half per person with a mixed salad and plenty of warmed, crusty bread.
Links: