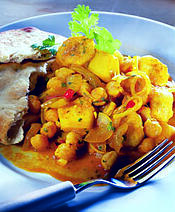 As this week is National Vegetarian Week I had veggie delights in mind as I scoured simple recipes to share with you. In the end I settled for a hearty and flavoursome Pumpkin & Chickpea Curry, which is a great meat-free alternative to a chicken curry, with a tangy Caribbean kick.
According to the Vegetarian Society, becoming vegetarian can reduce your carbon footprint, help conserve land and water and protect the oceans. What's more, a balanced vegetarian diet is really good for your health as it's low in fat, high in complex carbohydrates and packed with a variety of fruits and vegetables. With its mixture of vegetables and pulses, this tasty curry ticks all the boxes, so roll up your sleeves and get cooking!
Pumpkin & Chickpea Curry
Serves 4
Ingredients
1 tbsp vegetable oil

1 small onion, peeled and sliced

2 garlic cloves, peeled and finely chopped

2.5 cm/1 inch piece root ginger, peeled and grated

1 tsp ground allspice

½ tsp ground cloves

½ tsp ground turmeric

1 tsp ground cinnamon

2 tomatoes, chopped

2 habañero chillies, deseeded and finely chopped

450 g/1 lb pumpkin or butternut squash flesh, cubed

1 tbsp hot curry paste

300 ml/10 fl oz pint vegetable stock

1 large firm banana

400 g/14 oz can chickpeas, drained and rinsed

salt and freshly ground black pepper

1 tbsp freshly chopped coriander, plus extra sprigs, to garnish

rice or flat bread, to serve

Method
1. Heat the oil in a saucepan and add the onion. Fry gently for 5 minutes until softened. Add the garlic, ginger and spices, and fry for a further minute. Add the tomato and chilli, and cook for another minute.
2. Next add the pumpkin and curry paste, and fry gently for 3–4 minutes before adding the stock. Stir well, bring to the boil and simmer for 20 minutes until the pumpkin is tender.
3. Thickly slice the banana and add to the pumpkin along with the chickpeas. Simmer for a further 5 minutes. Season to taste with salt and pepper, and add the chopped coriander. Serve immediately, garnished with the extra coriander sprigs and accompanied by rice or flat bread.
This curry stores well so if you have too much to eat in one go simply transfer to a plastic container and keep in the fridge for a couple of days, or put it in the freezer if you want to keep it for longer.
Links
For more great tips and facts about becoming vegetarian, check out the Vegetarian Society website here

There are lots of great events taking place in honour of National Vegetarian Week, find your nearest one here

If you fancy doing more local Caribbean cooking but are finding certain ingredients difficult to get hold of, this great online supermarket could answer your problems