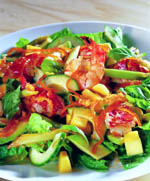 In case you'd forgotten, I thought I would use this blog to remind you all that this Sunday is Father's Day. Whilst it's great that there is a day entirely dedicated to those excellent men who spend so much of their lives giving their children lifts, fixing things, teaching them how to ride bikes and generally being an invaluable source of both practical and emotional reassurance, I personally find Father's Day a bit of a challenge.
My Dad is literally the hardest person to buy a present for. Ever. As children, whenever my sister and I asked what he wanted for his birthday/Christmas/Father's Day his stock (and increasingly infuriating) answer was always 'two daughters who don't argue'. Unlike the 'typical' Dad that Father's Day marketing emails are aimed at, he doesn't like football, he doesn't like chocolate, he doesn't read books (other than car user manuals), he doesn't like technologically savvy gadgets (he only just about manages to turn the TV on) and he is completely uninterested in extending his wardrobe (one pair of holey Levi's is quite enough, thank you very much). So what does that leave? Very little indeed…except for perhaps power tools, but these are (sadly?) beyond budget for me right now.
Needless to say my sister and I haven't quite managed to fulfil his dream of having two daughters who don't argue, but we are getting there. And in the meantime we have realised that there are really only two things we can buy him…beer or food related presents. And what's better than a food related present… a cooked meal. So for those of you who have a similarly non-materialistic Father, why not join me in cooking this delicious and indulgent lobster salad this Father's Day, perfect for the sunny weather that's coming our way!
Warm Lobster Salad with Hot Thai Dressing
Ingredients
Serves 4
1 orange

50 g/2 oz granulated sugar

2 Cos lettuce hearts, shredded

1 small avocado, peeled and sliced

1/2 cucumber, peeled and sliced

1 mango, peeled, stoned and sliced

1 tbsp butter or vegetable oil

1 large lobster, meat removed and cut into bite-sized pieces

2 tbsp Thai or Italian basil leaves

4 large cooked prawns, peeled with tails left on, to garnish
For the dressing:
1 tbsp vegetable oil

4–6 spring onions, trimmed and sliced into 5 cm/2 inch pieces

2.5 cm/1 inch piece fresh root ginger, peeled and grated

1 garlic clove, peeled and crushed

zest of 1 lime and juice of 2–3 limes

2 tbsp Thai fish sauce; 1 tbsp brown sugar; 1–2 tsp sweet chilli sauce

1 tbsp sesame oil
Method
1. With a sharp knife, cut the orange rind into thin julienne strips, then cook in boiling water for 2 minutes.
2. Drain the orange strips, then plunge into cold running water, drain and return to the saucepan with the sugar and 1 cm/½ inch water. Simmer until soft, then add 1 tablespoon of cold water to stop cooking. Remove from the heat and reserve. Arrange the lettuce on four large plates and arrange the avocado, cucumber and mango slices over the lettuce.
3. Heat a wok or large frying pan, add the butter or oil and when hot, but not sizzling, add the lobster and stir-fry for 1–2 minutes or until heated through. Remove and drain on absorbent kitchen paper.
4. To make the dressing, heat the vegetable oil in a wok, then add the spring onions, ginger and garlic and stir-fry for 1 minute. Add the lime zest, lime juice, fish sauce, sugar and chilli sauce. Stir until the sugar dissolves. Remove from the heat, add the sesame oil with the orange rind and liquor.
5. Arrange the lobster meat over the salad and drizzle with dressing. Sprinkle with basil leaves, garnish with prawns and serve immediately.
And there you have it! This is one of those great simple recipes which looks and tastes like it's so much more difficult to make than it actually is. Simply serve accompanied by some fresh bread, and perhaps a nice bottle of beer...
This recipe comes from our new South-East Asian Food cookbook, if you want tonnes more simple and tasty recipes, get your copy here, it's currently 10% off!
Links