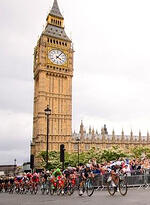 The East of England was taken over by the Tour de France in July as crowds gathered in their thousands (millions if you count those watching on TV) to see the cyclists compete. Cycling has become increasingly popular since the London 2012 Olympics which saw Chris Hoy, Jason Kenny and Philip Hindes win gold and set new world records on the track. Lizzie Armitstead also won a silver medal for her road race event with a great time. Not forgetting the men's road events as well, with Chris Froome getting bronze and Bradley Wiggins nabbing gold. A fantastic time for British cycling!
A Tour de Force
With stage 11 of the Tour de France having kicked off, let's have a quick recap. Marcel Kittel won the first stage, as he was able to get ahead of the main pack of racers and stay out of trouble. But for Brits, stage 1 was completely overshadowed by Mark Cavendish's crash 300 metres before the end of the stage in Harrogate, when he collided with Germany's Simon Gerrans during the final sprint and unfortunately had to drop out. The Italian Vincenzo Nibali, also known as the 'Shark of the Strait', claimed his victory in stage 2, having battled all of the hills in West and South Yorkshire. He had an advantage of two seconds over Peter Sagan. Just over half of the race is now completed. It will finish in Paris on the 27th July with a magnificent final stretch up the Champs-Élysées. The final stage will be spectacular, especially if you are lucky enough to be there! If not, there's no excuse in this weather not to get out your bike and keep the Tour de France spirit going. Here's a bit of expert advice for getting out and about with your bike...
Keep Healthy With Your Family
There are obvious health benefits to cycling, of course. It is one of the few types of exercise that is easy on the joints, especially when compared to running or lifting weights. And despite being a low-impact sport, it is still a great cardiovascular workout that will help you burn off some calories and will tone your legs and bottom. Even a few hours after riding, your metabolic rate will be increased – so keep in mind that if you do a thirty minute cycle you will burn off those snacks far quicker than you would normally!
A cycle will also spur your immune cells into action and help you fight off infection. Encouraging your kids to come along for a ride through the park might be a good idea as it will provide a great boost at a time when they're exposed to all the bugs at school. Rides through the park can also quickly become such fun family time and a great way to de-stress. Everyone remembers the time they were able to keep upright without their stabilisers! And you will influence them to follow your example and keep healthy with some regular gentle exercise.

A Cycling Commute
As well as all the health benefits you'll get from cycling to work every day you will also be saving the planet one ride at a time. A bike produces zero pollution and if you cycle instead of walking you will be travelling almost three times as fast despite using the same amount of energy. It's also the perfect way to stay fit without having to exert lots of time and energy.
Studies have also shown that people who cycle to work, or do some exercise in their lunch break, are better at keeping motivated at work and at dealing with stress. So if you find yourself getting a bit more cranky than normal, a cycle might just be the answer.
Staying Safe While Cycling
You should always keep your health in mind while cycling, and never go for a ride without a helmet and lights and reflectors. Your helmet should be a snug fit when positioned centrally on your head and should not tip back or forwards when you move. Make sure the straps are securely fastened with only an inch between your chin and the strap. Just as important are lights. If you are using your bike at night you must have a white front light, a red rear light as well as a red reflector at the back of the bike and pedal reflectors on each pedal. Lights can be steady or flashing but it is useful to have a steady light at the front of the bike.
Additionally, you should check that your brakes and handlebars are effective and that your chain, gears and pedals are all in working order. Check by moving the pedals by hand and changing the gears that everything is working smoothly. Remember to lubricate your chain with some oil occasionally to keep it working well.
Our informative book Cycling (ISBN: 9780857750969) by David North, filled with expert advice made easy, is a great place to get started for new cyclists, or an invaluable manual for those who want to take their hobby to the next level. Find it on Amazon here.
Links
The British Cycling website is a wealth of information and tips on everything you need to enjoy cycling. Take a look here.

Read all about Mark Cavendish's crash in stage 1 of the Tour de France from the BBC's report.

You can visit the Sustrans website for lots of great cycling routes to try out.