Is it really autumn already?! Depressingly that makes it months since I donned my massive backpack, grabbed a trusty Lonely Planet guidebook and stepped onto a plane bound for a sun-drenched two weeks in Thailand.... sigh.
Aside from sleeping in a hut perched amongst the palm trees on a white sandy beach, and indulging in massages and manicures priced at less than you'd pay for a cup of coffee in London, what I really miss the most is the food. Being that I am still in the throes of student-style budgeting, my trusty travel buddy and I hastily by-passed hotel restaurants, cafes and tavernas and followed our noses straight towards the wealth of cheap-as-chips street food stalls Thailand has to offer. By the end of two weeks I had established a firm, if not slightly stereotypical, favourite in the form of Pad Thai.
Back at work, I spotted our Snacks & Street Eats book, turned to page 166 and there you have it, a Pad Thai recipe that even my fledgling cooking skills can handle. The result is the perfect combination of delicate yet exotic flavours, crunchy beansprouts and moorish noodles, all topped off by a generous allowance of prawns and chicken pieces. Eat up!
Pad Thai (makes 1 large portion)
Ingredients
50 g/2 oz flat rice noodles
1 tbsp groundnut or vegetable oil
50 g/2 oz boneless chicken breast, skinned and thinly sliced
1 shallot, peeled and thinly sliced
1 garlic cloves, peeled and finely chopped
2 spring onions, trimmed and diagonally cut into 5 cm/2 inch pieces
50–75 g/2–3 oz thawed peeled prawns, chopped, or fresh white crab meat
25 g/1 oz fresh beansprouts, rinsed and drained
2 fresh radishes, chopped
1 tbsp roasted peanuts, chopped (optional)
For the sauce
1/2 tbsp Thai fish sauce (nam pla)
1 tbsp rice vinegar or malt vinegar
1–2 tsp chilli bean or oyster sauce
1 tsp toasted sesame oil
1 tsp light brown sugar
1 small red chilli, deseeded and thinly sliced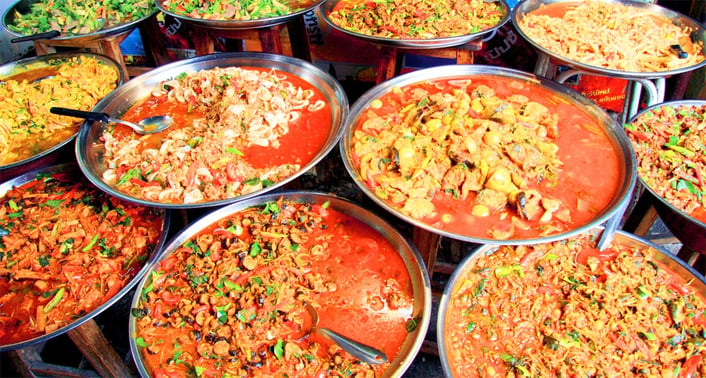 Method
To make the sauce, whisk all the sauce ingredients in a bowl and reserve. Put the rice noodles in alarge bowl and pour over enough hot water to cover. Leave to stand for about 15 minutes untilsoftened. Drain and rinse, then drain again.

Heat the oil in a wok over a high heat until hot, but not smoking. Add the chicken strips and stir-fry constantly until they begin to colour. Using a slotted spoon, transfer to a plate. Reduce the heat to medium-high.

Add the shallot, garlic and spring onions and stir-fry for 1 minute. Stir in the rice noodles, then the reserved sauce; mix well.

Add the reserved chicken strips, with the prawns or crab meat, beansprouts and radish and stir well. Cook for about 5 minutes, stirring frequently, until heated through. If the noodles begin to stick, add a little water.

Turn into a bowl and sprinkle with the chopped peanuts, if desired. Serve immediately. I would not recommend keeping.

Some of the ingredients are quite expensive in this dish (though the sauces and vinegars are great to have in your store cupboard), so it is perfect for a special meal. Rice noodles are usually sold dried, but fresh are sometimes available. Check packet instructions.
If this has whet your appetite for the flavours and aromas of street food, there are more great quick and easy recipes for finger food and meals from around the world in Snacks & Street Eats. And for more recipes for college students including soups, curries, hearty meals, noodle dishes and desserts check out The Student Cookbook and check back to this blog for more in the series 'Top 10 Simple Recipes for Students'.
Links
More great Thai food recipes here

Hunt down the best of British street food here

Check out other Top 10 Simple Recipes for Students here