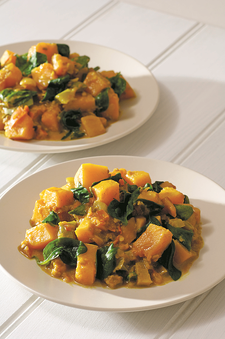 So it's time for the second of my Top Ten Simple Recipes for College Students, and this one is a real stunner and definitely a personal fave. This
Sweet Potato Curry
is deliciously moorish, comforting and really ridiculously easy to make – the perfect option for when you've got a big deadline to power through and are feeling just a teeny bit homesick for a good
wholesome meal
. A great introduction to using spices, mastering this recipe will really add to your repertoire; simply
serve up with boiled rice
or a shop-bought naan bread for an Indian meal which is both healthier and a damn sight cheaper than that takeaway down the road!
Sweet Potato Curry
Ingredients
Makes 1 large portion
1 tbsp vegetable oil

1⁄2–1 green chilli, deseeded and chopped

small piece fresh root ginger, peeled and grated

1 tsp curry powder

1 small onion, peeled and cut into wedges

1 large garlic clove, peeled and crushed

175 g/6 oz sweet potatoes, peeled and cut into small chunks

1⁄2 red pepper, deseeded and chopped

2 medium tomatoes, chopped

150 ml/1⁄4 pint coconut milk, or a small piece of creamed coconut blended with 4 tbsp warm water

75 g/3 oz fresh spinach leaves

Method
Heat the oil in a frying pan or wok; add the chilli, ginger and curry powder and fry for 3 minutes, stirring frequently. Add the onion and garlic and continue to fry for a further 5 minutes, or until the onion has softened.

Add the sweet potatoes and stir until coated in the spices, and then add the red pepper and chopped tomatoes.

Pour in the coconut milk. Bring to the boil, then reduce the heat, cover and simmer for 12–15 minutes, or until the vegetables are cooked. Stir in the spinach and heat for 3 minutes, or until wilted, then serve.
And there you have it, quick and easy recipe number two under your belt. Bear in mind, this dish will not keep or reheat very well so only cook the amount you can eat, or share with friends. This recipe has the added bonus of being meat free which not only means that any vegetarians can get involved, but also that the cost of ingredients will be cheaper and will keep longer withiut you having to worry about them going passed their best.
For more recipes for college students including soups, curries, veggie, rice dishes and desserts check out The Student Cookbook and check back to this blog for more in the series 'Top 10 Simple Recipes for Students'.
Links