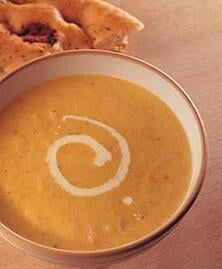 So far this week three things have happened to confirm to me that summer is definitely over and winter is fast approaching. Firstly in a stubborn bid to avoid turning our heating on until November at the earliest, making a hot water bottle has become part of my night-time routine. Secondly, after leaving work on Monday to meet a friend for coffee I climbed the steps out of the underground to find that it was almost dark already, and it was only 6.30pm – the night's are indeed 'drawing in' as my Granny would say. Thirdly, just this lunch time, after venturing out to buy her lunch in the pouring rain my work-mate Emma returned to the office, took her boots off to dry near the radiator and stepped into her handy work-slippers. Yes people, winter is on its way!
But on the bright side that means it's soup season, and I am personally rather excited about that! It's time to embrace warming, homemade soups packed with flavour and healthy vegetables. To get you started here is a delicious pumpkin soup recipe, perfectly seasonal as pumpkins start to enter the supermarkets at low prices in the run up to Halloween.
Pumpkin Soup
Ingredients
Makes 1 Portion
175 g/6 oz pumpkin flesh (after peeling and discarding the seeds), cut into 2.5 cm/1 inch cubes

1 tbsp olive or sunflower oil

1 small onion, peeled

1 small leek, trimmed

1 small carrot, peeled

1 small celery stalk

1 garlic clove, peeled and crushed

450 ml/3⁄4 pint water

salt and freshly ground black pepper

freshly grated nutmeg, to taste

2 tbsp milk

cayenne pepper, to taste (optional)

1 tbsp single cream (optional)

warm herby bread, to serve

Method
1. Heat the oil in a large saucepan and cook the pumpkin for 2–3 minutes, coating it in the oil. Chop the onion and leek finely and cut the carrot and celery into small dice. Add the vegetables to the saucepan with the garlic and cook, stirring, for 5 minutes or until they have begun to soften.
2. Cover with the water and bring to the boil. Season with plenty of salt and pepper and the nutmeg, cover and simmer for 15–20 minutes until all of the vegetables are tender.
3. Remove from the heat, cool slightly then blend to a smooth purée using a handheld blender (or a food processor or liquidizer if you have one). Pass through a sieve into a clean saucepan. Adjust the seasoning to taste and add the milk with sufficient water to obtain the correct consistency. Bring the soup to boiling point, add the cayenne pepper, if using, and serve immediately swirled with the cream, if using, with warm herby bread.
This is a great recipe for saving money; not only is it cheap, filling and healthy but any leftovers can easily be frozen to last for another meal. Simply pour any remaining soup into a small freezer bag placed in a wide-mouth jar and freeze for 4 hours or until solid. Remove from the jar and secure the bag, label and date. Use within 1 month. The soup is easily thawed: simply place the bag in the saucepan you will use for reheating and leave for about 6 hours or overnight. To reheat, tip the contents of the bag into the pan and heat over a gentle heat, stirring frequently. Add a little extra milk if too thick. Heat until piping hot.
For more recipes for college students including pasta dishes, curries, hearty meals, noodle dishes and desserts check out The Student Cookbook and check back to this blog for more in the series 'Top 10 Simple Recipes for Students'.
Links