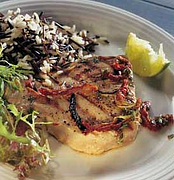 When it comes to healthy eating I think there are few foods quite as great as fresh fish. Not only is it full of vitamins and omega-3 oils, which are the healthiest kind of fat, but it also holds the added bonus of being full of top-class protein – which means that you stay feeling full for longer, always a plus if you're trying to lose a bit of weight or avoid the temptation of unhealthy snacks!
With this in mind, here's a really tasty tuna recipe which will leave you feeling satisfied. Simply serve up with some mixed rice and a dressed salad for a delicious meal, which is impressive enough to be served to guests.
Seared Tuna with Pernod & Thyme
Serves 4
Ingredients
4 tuna or swordfish steaks

salt and freshly ground black pepper

3 tbsp Pernod 1

tbsp olive oil

zest and juice of 1 lime

2 tsp fresh thyme leaves

4 sun-dried tomatoes

freshly cooked mixed rice tossed green salad, to serve

Method
1. Wipe the fish steaks with a damp cloth or dampened kitchen paper.
2. Season both sides of the fish to taste with salt and pepper, then place in a shallow bowl and reserve.
3. Mix together the Pernod, olive oil, lime zest and juice with the fresh thyme leaves.
4. Finely chop the sun-dried tomatoes and add to the Pernod mixture.
5. Pour the Pernod mixture over the fish and chill in the refrigerator for about 2 hours, spooning the marinade occasionally over the fish.
6. Heat a griddle or heavy-based frying pan. Drain the fish, reserving the marinade. Cook the fish for 3–4 minutes on each side for a steak that is still slightly pink in the middle. Or, if liked, cook the fish for 1–2 minutes longer on each side if you prefer your fish cooked through.
7. Place the remaining marinade in a small saucepan and bring to the boil. Pour the marinade over the fish and serve immediately, with the mixed rice and salad.
If you enjoyed this recipe and are looking for more ideas for how to eat healthily this year, check back next week for the third recipe instalment in my series of Top Simple Recipes for Healthy Eating, or get yourself a copy of our great value, full colour, illustrated ebook here.
Links
Never heard of Pernod before? It's an anise-flavoured liqueur, find out more here

Want to know the secret ingredient to a healthy lifestyle? Click here

Check out other posts in the Simple Recipes for Healthy Eating series here

If you want to get away from the January dieting then try our free download below!