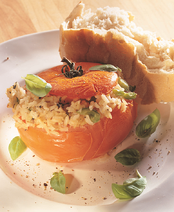 With its high proportion of fruits and vegetables, low saturated fat content and emphasis upon oily fish rather than red meat, the Mediterranean diet is well-known for its potential health benefits. It is suggested that eating a diet rich in such characteristics is a great way to protect against high cholesterol, strokes and heart disease.
With these positive benefits in mind, and the continued determination to lead a happy and healthy 2014, I decided that this week's recipe should be Mediterranean-inspired. So, for a taste of sunshine try cooking up this delicious meal of Spanish Baked Tomatoes – packed full of flavoursome veggies and filling rice, this is a low-fat dinner option not to be missed.
Spanish Baked Tomatoes
Serves 4
Ingredients
175 g/6 oz whole-grain rice

600 ml/1 pint vegetable stock

2 tsp olive oil

2 shallots, peeled and finely chopped

1 garlic clove, peeled and crushed

1 green pepper, deseeded and cut into small dice

1 red chilli, deseeded and finely chopped

50 g/2 oz button mushrooms finely chopped

1 tbsp freshly chopped oregano

salt and freshly ground black pepper

4 large ripe beef tomatoes

1 large egg, beaten

1 tsp caster sugar

basil leaves, to garnish

crusty bread, to serve

Method
1. Preheat the oven to 180˚C/ 350˚F/ Gas Mark 4. Place the rice in a saucepan, pour over the vegetable stock and bring to the boil. Simmer for 30 minutes or until the rice is tender. Drain and turn into a mixing bowl.
2. Add 1 teaspoon of olive oil to a small non-stick pan and gently fry the shallots, garlic, pepper, chilli and mushrooms for 2 minutes. Add to the rice with the chopped oregano. Season with plenty of salt and pepper.
3. Slice the top off each tomato. Cut and scoop out the flesh, removing the hard core. Pass the tomato flesh through a sieve. Add 1 tablespoon of the juice to the rice mixture. Stir in the beaten egg and mix. Sprinkle a little sugar in the base of each tomato. Pile the rice mixture into the shells.
4. Place the tomatoes in a baking dish and pour a little cold water around them. Replace their lids and drizzle a few drops of sunflower oil over the tops.
5. Bake in the preheated oven for about 25 minutes. Garnish with the basil leaves and season with black pepper and serve immediately with crusty bread.
If you enjoyed this recipe and are looking for more ideas for how to eat healthily this year, check back next week for the fourth recipe instalment in my series of Top Simple Recipes for Healthy Eating, or get yourself a copy of our great value, full colour, illustrated book here.
Links