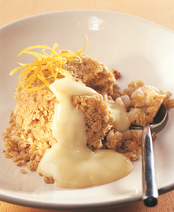 When it's cold and rainy outside, being healthy can be quite a challenge. Take this Sunday for example…the weather was miserable, my flat was chilly, and to be perfectly honest all I really felt like doing all day was sitting in bed watching Netflix and eating warm stodgy food. So this week, to keep you motivated through this persistently drizzly rain, I decided that if we are going to slip-up and give in to the temptations of a delicious and comforting pudding, that pudding may as well be reasonably healthy and low in fat.
So next time you have an attack of the lying-in-bed-and-eating-junk syndrome, I suggest you whip up a quick batch of these tasty puddings, to keep those more dangerous shop-bought desserts, cakes and biscuits at bay! Not only will these oaty marvels save you a penny, but they are also low in fat (with the low-fat spread being the 'naughtiest' of the ingredients) and will keep you feeling full and satisfied for longer.
Oaty Fruit Puddings
Serves 4
Ingredients
125 g/4 oz rolled oats

50 g/2 oz low-fat spread, melted

2 tbsp chopped almonds

1 tbsp clear honey

pinch of ground cinnamon

2 pears, peeled, cored and finely chopped

1 tbsp marmalade orange zest, to decorate
low-fat custard or fruit-flavoured low-fat yogurt, to serve

Method
1. Preheat the oven to 200˚C/ 400˚F/Gas Mark 6. Lightly oil and line the bases of 4 individual pudding bowls or muffin tins with a small circle of greaseproof paper.
2. Mix together the oats, low-fat spread, nuts, honey and cinnamon in a small bowl.
3. Using a spoon, spread two thirds of the oaty mixture over the base and around the sides of the pudding bowls or muffin tins.
4. Toss together the pears and marmalade and spoon into the oaty cases.
5. Scatter over the remaining oaty mixture so it covers the pears and marmalade in the cases.
6. Bake in the preheated oven for 15–20 minutes, until cooked and the tops of the puddings are golden and crisp.
7. Leave for 5 minutes before removing the pudding bowls or the muffin tins. Decorate with orange zest and serve hot with low-fat custard or low-fat fruit-flavoured yogurt.
So, pudding craving over…time to get back on track with that happy and healthy 2014! For more great healthy and low-fat recipes to help you on your way, check back next week for the fifth recipe instalment in my series of Top Simple Recipes for Healthy Eating and check out our great value, full colour, illustrated book here.
Links
The oats may be in a pudding rather than porridge, but these health benefits still apply

Is it really almost February?! Here are some fun things to do in the capital in the forthcoming month

Gym too pricey? Check out these fun ways to get fit without one!

If you want a break from January dieting, try one of our recipes from the free download below