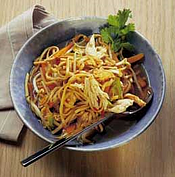 This year 31st January not only marked the end of a very long post-Christmas month, but also Chinese New Year. Although this date officially brought us into the Year of the Horse, London's main Chinese New Year celebration weren't held until February 2nd. So just to drag out the celebrations for a little bit longer, I decided that this week's healthy recipe instalment should be Chinese themed in honour of the occasion.
So here it is , Chinese Chicken Soup! Wonderfully filling and wholesome, this is the perfect option for a healthy evening meal or weekend lunch.

Chinese Chicken Soup
Serves 4
Ingredients
225 g/8 oz cooked chicken

1 tsp oil

6 spring onions, trimmed and diagonally sliced

1 red chilli, deseeded and finely chopped

1 garlic clove, peeled and crushed

2.5 cm/1 inch piece root ginger, peeled and finely grated

1 litre/13/4 pint chicken stock

150 g/5 oz medium egg noodles

1 carrot, peeled and cut into matchsticks

125 g/4 oz beansprouts

2 tbsp soy sauce

1 tbsp fish sauce

fresh coriander leaves, to garnish
Method
1. Remove any skin from the chicken. Place on a chopping board and use two forks to tear the chicken into fine shreds.
2. Heat the oil in a large saucepan and fry the spring onions and chilli for 1 minute. Add the garlic and ginger and cook for another minute.
3. Stir in the chicken stock and gradually bring the mixture to the boil.
4. Break up the noodles a little and add to the boiling stock with the carrot. Stir to mix, then reduce the heat to a simmer and cook for 3–4 minutes.
5. Add the shredded chicken, beansprouts, soy sauce and fish sauce and stir. Cook for a further 2–3 minutes until piping hot. Ladle the soup into warmed bowls and sprinkle with the coriander leaves. Serve immediately.
So, there's another tasty recipe under your belt for a happy and healthy 2014! For more great healthy and low-fat recipes to help you on your way, check back next week for the sixth recipe instalment in my series of Top Simple Recipes for Healthy Eating and check out our great value, full colour, illustrated book here.
Links
Fun facts about the Chinese New Year of the Horse

Check out the best ways to celebrate Chinese New Year in London here

Find out why home-cooked Chinese food is so healthy here