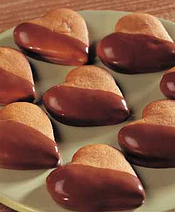 Like most people, I am quick to moan about the way Valentine's day has become a consumer event blah, blah, blah...
However, given that there is no getting away from the fact that it exists, I can't quite bring myself not to acknowledge it at all. Granted, my involvement is limited – last year I sent my boyfriend a pictureless card with only the words 'I like you' on the front – but I am not quite cynical enough to completely ignore it. So this year, instead of buying into the consumer nature of the big day, I decided to side-step bought cards, ignore any marketing emails screaming at me that if I buy their 'perfect' product RIGHT NOW I will get free delivery (!), and have instead opted for baking a homemade Valentine's gift.
This has turned out to be a) much cheaper; b) much more satisfying – I got to lick the bowl after; c) more thoughful; and d) a damn sight easier than trying to figure out what to write in a card without sounding like an idiot.
So if you too are stuck for a gift idea, and have by now missed those free delivery deals (darn it!), I suggest you save yourself some money and give your girlfriend/boyfriend/lover/stalkee a batch of these delicious cookies. If you are a fan of quick and simple recipes, then these are perfect for you!
Honey & Chocolate Heart Cookies
Makes about 20 biscuits
Ingredients
60 g/2½ oz caster sugar

15 g/½ oz butter

125 g/4 oz thick honey

1 small egg, beaten

pinch of salt

1 tbsp mixed peel or chopped glacé ginger

¼ tsp ground cinnamon

pinch of ground cloves

225 g/8 oz plain flour, sifted

½ tsp baking powder, sifted

75 g/3 oz milk chocolate

Method
1. Preheat the oven to 220˚C/425˚F/Gas Mark 7, 15 minutes before baking. Lightly oil two baking sheets. Heat the sugar, butter and honey together in a small saucepan until everything has melted and the mixture is smooth.
2. Remove from the heat and stir until slightly cooled, then add the beaten egg with the salt and beat well. Stir in the mixed peel or glacé ginger, ground cinnamon, ground cloves, the flour and the baking powder and mix well until a dough is formed. Wrap in clingfilm and chill in the refrigerator for 45 minutes.
3. Place the chilled dough on a lightly floured surface, roll out to about 5 mm/¼ inch thickness and cut out small heart shapes. Place onto the prepared baking sheets and bake in the preheated oven for 8–10 minutes. Remove from the oven and leave to cool slightly. Using a spatula, transfer to a wire rack until cold.
4. Melt the chocolate in a heatproof bowl set over a saucepan of simmering water. Alternatively, melt the chocolate in the microwave according to the manufacturer's instructions, until smooth. Dip one half of each biscuit in the melted chocolate. Leave to set before serving.
Once the cookies are cooled why not put in a pretty box and finish with a ribbon. Such a thoughtful and yummy present is bound to earn you a stack of brownie points...
Links