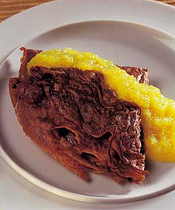 It's Pancake Day next week and I am, to say the least, more than a little bit excited! Ever since I was a little girl, pancakes have always been up there amongst my very favourite foods, so this day has never ceased to be met with great anticipation.
As kids my sister and I would hang around the kitchen like vultures as my Dad whisked up the batter and got to work on the pancakes. We would inevitably argue over who got the first pancake, which is always the best due to being the most deliciously oily of the lot, and then we would continue to work our way through subsequent pancakes by trying all manner of toppings ranging from savoury options such as tuna and sweetcorn to sickeningly sweet golden syrup. However, the best part of Pancake Day always came as the batter began to dwindle and my Dad would use the last amounts to expertly produce pancakes shaped in the first letters of our names – a 'C' for my sister, and a slightly more tricky 'E' for me. We would relish this final alphabet-themed taste of Pancake Day and toddle off full to the brim yet already excited for its return the following year.

In recent years my Dad's pancakes were replaced by pancake parties at uni, and this year I expect my housemates and I will celebrate with a pancake themed evening, for which I have decided to branch out from the traditional pancakes to try something a bit more exciting. Just in case you feel like a change too, I thought I would share the recipe with you. The real beauty of this recipe is that incorporates both pancakes and chocolate – it doesn't get much better than that!
Chocolate Pancakes
Serves 6
Ingredients
For the pancakes:
75 g/3 oz plain flour
1 tbsp cocoa powder
1 tsp caster sugar
½ tsp freshly grated nutmeg
2 medium eggs
175 ml/6 fl oz milk
75 g/3 oz unsalted butter, melted

For the mango sauce:
1 ripe mango, peeled and diced
50 ml/2 fl oz white wine
2 tbsp golden caster sugar
2 tbsp rum

For the filling:
225 g/8 oz plain dark chocolate
75 ml/3 fl oz double cream
3 eggs, separated
25 g/1 oz golden caster sugar

1. Preheat the oven to 200˚C/400˚F/Gas Mark 6, 15 minutes before cooking. To make the pancakes, sift the flour, cocoa powder, sugar and nutmeg into a bowl and make a well in the centre. Beat the eggs and milk together, then gradually beat into the flour mixture to form a batter. Stir in 50 g/2 oz of the melted butter and leave to stand for 1 hour.

2. Heat an 18 cm/7 inch nonstick frying pan and brush with a little melted butter. Add about 3 tablespoons of the batter and swirl to cover the base of the pan. Cook over a medium heat for 1–2 minutes, flip over and cook for a further 40 seconds. Repeat with the remaining batter. Stack the pancakes interleaving with greaseproof paper.

3. To make the sauce, place the mango, white wine and sugar in a saucepan and bring to the boil over a medium heat, then simmer for 2–3 minutes, stirring constantly. When the mixture has thickened add the rum. Chill in the refrigerator.

4. For the filling, melt the chocolate and cream in a small heavy-based saucepan over a medium heat. Stir until smooth, then leave to cool. Beat the egg yolks with the caster sugar for 3–5 minutes, or until the mixture is pale and creamy, then beat in the chocolate mixture.

5. Beat the egg whites until stiff, then add a little to the chocolate mixture. Stir in the remainder. Spoon a little of the mixture onto a pancake. Fold in half, then fold in half again, forming a triangle. Repeat with the remaining pancakes.

6. Brush the pancakes with a little melted butter and bake in the preheated oven for 15–20 minutes or until the filling is set. Serve hot or cold with the mango sauce.

If you are looking for simple recipes for Pancake Day this tempting choice is a great contender! It certainly takes Pancake Day to a whole new level, and there's no need to worry about the naughtiness of the chocolate – after all, you can always give it up for Lent…
Links
Fancy trying your hand at pancake racing? Take a look at the best Pancake Day events in London

Find out about Rochdale's amazing three tonne pancake and other incredible Pancake Day world records here

Got an insatiable penchant for pancakes? Check out the best places to eat them in London (besides our fantastic recipe of course!)