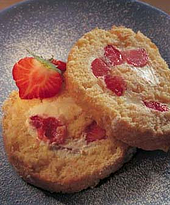 This week's recipe takes the form of a light, low-fat dessert – because we all need a treat every now and then! This recipe features low-fat alternatives to unhealthy ingredients, as well as making the most of the natural sweetness of fruit, meaning that there is no reason to fight against satisfying that sweet craving at the end of a meal. With strawberries beginning to crop up more and more in the shops, it's a good time to start thinking of tasty new recipes beyond the traditional (and excessively calorific) strawberries and cream combination. I highly recommend this roulade, it's one of those great simple recipes that looks a lot harder to make than it actually is, perfect if you've got friends coming for dinner.
Fruity Roulade
Serves 4
For the sponge:
3 medium eggs

75 g/3 oz caster sugar

75 g/3 oz plain flour, sieved

1–2 tbsp caster sugar for sprinkling
For the filling:
125 g/4 oz Quark

125 g/4 oz half-fat Greek yogurt

25 g/1 oz caster sugar

1 tbsp orange liqueur (optional)

grated rind of 1 orange

125 g/4 oz strawberries, hulled and cut into quarters
To decorate:
strawberries

sifted icing sugar

Method
1. Preheat the oven to 220˚C/425˚F/Gas Mark 7. Lightly oil and line a 33 x 23 cm/13 x 9 inch Swiss roll tin with greaseproof or baking parchment paper.
2. Using an electric whisk, whisk the eggs and sugar until the mixture is double in volume and leaves a trail across the top.
3. Fold in the flour with a metal spoon or rubber spatula. Pour into the prepared tin and bake in the preheated oven for 10–12 minutes, until well risen and golden.
4. Place a whole sheet of greaseproof or baking parchment paper out on a flat work surface and sprinkle evenly with caster sugar.
5. Turn the cooked sponge out on to the paper, discard the paper, trim the sponge and roll up encasing the paper inside. Reserve until cool.
6. To make the filling, mix together the Quark, yogurt, caster sugar, liqueur (if using) and orange rind. Unroll the roulade and spread over the mixture. Scatter over the strawberries and roll up.
7. Decorate the roulade with the strawberries. Dust with the icing sugar and serve.
If you are feeling adventurous or have simply got some other berries in the fridge, why not try replacing the strawberries in this recipe with blueberries or raspberries, or even a combination of the three?! This dessert is best eaten fresh, so get your friends and family to help you out.
For more great healthy and low-fat recipes to help you on your way, check back next week for the ninth recipe instalment in my series of Top Simple Recipes for Healthy Eating and check out our great value, full colour, illustrated book here.
Links
Yep, you've guessed it, strawberries are another super healthy snack option – find out why here

Is your wardrobe ready for Spring? Brush up on the latest fashion trends here

Spring cleaning your bookshelf? Here are some great new books to re-fill it with!