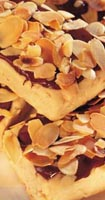 With Mother's Day fast approaching, what better choice for this week's recipe than something delicious, indulgent and perfect as a homemade gift? With their crumbly shortbread, decadent chocolate layer and crunchy almond topping, these Chocolate & Almond Biscuits tick all the boxes.
If you're after simple recipes that will leave your Mum feeling loved, look no further! These biscuits take just 15 minutes once in the oven and use a simple list of ingredients, yet the end result is hard to beat. What a lovely heartfelt gift!
Chocolate & Almond Biscuits

Makes 18–20
140 g/4½ oz butter

60 g/2½ oz icing sugar

1 medium egg, beaten

1 tbsp milk

grated rind of 1 lemon

250 g/9 oz plain flour

100 g/3½ oz blanched almonds, chopped

125 g/4 oz plain dark chocolate

75 g/3 oz flaked almonds, toasted

Method
1. Preheat the oven to 200˚C/400˚F/Gas Mark 6, 15 minutes before baking. Lightly oil several baking sheets.
2. Cream the butter and icing sugar together until light and fluffy, then gradually beat in the egg, beating well after each addition. When all the egg has been added, stir in the milk and lemon rind. Sift the flour then stir into the mixture together with the chopped almonds to form a smooth and pliable dough. Wrap in clingfilm and chill in the refrigerator for 2 hours.
3. Roll the dough out on a lightly floured surface, in a large oblong about 5 mm/¼ inch thick. Cut into strips, about 6.5 cm/2½ inches long and 4 cm/1½ inches wide and place on the prepared baking sheets.
4. Bake in the preheated oven for 15 minutes, or until golden, then remove from the oven and leave to cool for a few minutes. Transfer to a wire rack and leave to cool completely.
5. Melt the chocolate in a heatproof bowl set over a saucepan of simmering water. Alternatively, the chocolate can be melted in the microwave according to the manufacturer's instructions, until smooth. Spread the chocolate thickly over the biscuits, sprinkle over the toasted flaked almonds and leave to set before serving.
And there you have it, a prefect Mother's Day present in a matter of mintues. Simply pop in a box and tie with pretty ribbon and you're all set. For more great biscuit recipes such as this one, as well as cookies and cakes, check out our Cakes & Cookies cookbook...it's full of yummy temptations!
Links
From tissue paper posies to ballon bouquets, this great 'how to' blog is full of ideas for Mother's Day

Perfect your Mother's Day plans with the help of Timeout

It's not all rainbows and flowers…read about the reality of Mother's Day here