It's that time of the year again: leaves are starting to change colour, sweaters are reappearing and students are going back to school. Now is the time when everybody re-evaluates his or her budget, and for most students that means spending the bare minimum on food. Well, as a fellow student, I can tell you that a small food budget means much more than eating canned soup every night! It's completely possible to cook beautiful and delicious meals with little money.
Bake Your Own
Why would you buy easy-to-make snacks such as Kellogg's Rice Chewy Squares at nearly £1.60 for a packet of four? Sure, they're tasty, but why not buy a no-frills box of the right sort of cereal and a £1 (or cheaper) bag of marshmallows and make your own – with plenty of cereal left over for several breakfasts. Best price AND something fun to do.
Bypass the Bargain Bin
Ignore next-to-the-tills eye candy. It's not only the children who are attracted by the sweeties at their eye level; many an adult has come undone as the sight of a 'bargain bin' near the queue. Is it really a bargain? Just because there's a big sign flashing up the price of those cheese straws does not mean they are cheap at that price.
Buy Loose, Local Produce
Try to support your markets and local stores by getting fresh fruit and vegetables there – it is often much cheaper and probably locally grown too, rather than being flown in from South Africa. Your mushrooms should not travel further to get to the store than you do.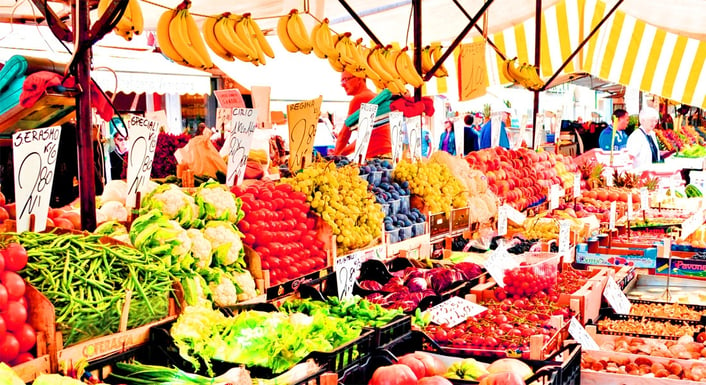 Organic food can cost more in supermarkets, but if you go to a local farmer's market, it won't be so costly to eat a little more healthily while supporting your local farmers.
And with those tips in mind, I urge you to try this recipe! It's super easy and can be made for not a lot of money, especially if you're a savvy shopper.
Turkey Hash with Potato and Beetroot
Serves 4
Ingredients
2 tbsp vegetable oil
50 g/2 oz margarine or butter
4 slices streaky bacon, rind and cartilage removed
1 onion peeled and finely chopped
350 g/12 oz cooked turkey meat
450 g/1 lb cooked potatoes diced,
2–3 tbsp freshly chopped parsley
2 tbsp plain flour
250 g/9 oz cooked beetroot (not in vinegar)
green salad, to serve
Method
1. In a large, heavy-based frying pan, heat the oil and half the margarine or butter over a medium heat until sizzling. Add the bacon and cook for 4 minutes, or until crisp and golden, stirring occasionally. Using a slotted spoon, transfer to a large bowl. Add the onion to the pan and cook for 5–8 minutes until soft and golden, stirring frequently.
2. Meanwhile, add the turkey, potatoes, parsley and flour to the cooked bacon in the bowl. Stir and toss gently, then fold in the diced beetroot. Add half the remaining margarine or butter to the frying pan and then the turkey and vegetable mixture. Stir, then spread the mixture to cover the bottom of the frying pan evenly.

3. Cook for 15 minutes, or until the underside is crisp and brown, pressing the hash firmly into a cake with a spatula. Remove from the heat. Invert a large plate over the frying pan and, holding the plate and frying pan together with an oven glove, turn the hash out onto the plate.
4. Heat the remaining margarine or butter in the pan, slide the hash back into the pan and cook for 4 minutes, or until crisp on the other side. Invert onto the plate again and serve with a green salad.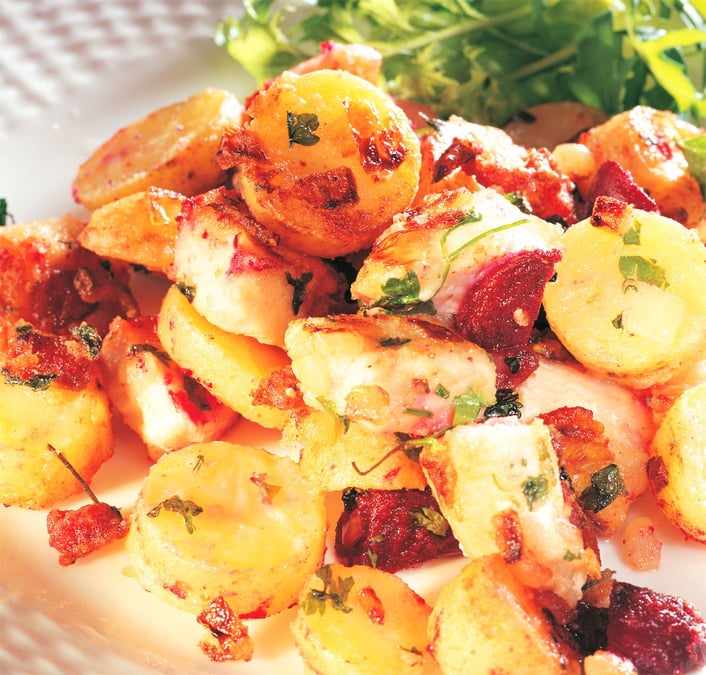 This recipe was taken from our new edition of Cooking on a Budget (ISBN 9781783613007), for more amazing Flame Tree recipes check it out on Amazon here!
This post was written by intern Taylor Steinberg.