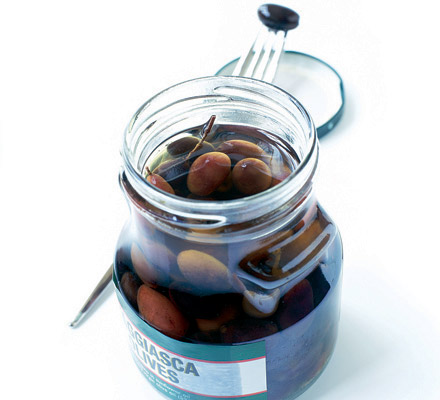 So, it's Day Seven into the new year, a full week after those resolutions have been determinedly made; enough time indeed for the initial enthusiasm to wear off and ambition to fade. Now is the time to stay strong! We have vowed to make this year a great one, to be a better person, to make those steps towards a happier and healthier life. What better way to keep up the good work than with a simple low fat recipe that doesn't compromise on taste – that can even fill you with that heady optimism to believe that everything is possible, that eating healthily really isn't difficult at all.
It may sound too good to be true, but here is a recipe that did provide the gentle reminder I needed that a healthy meal really can taste amazing. Quick and easy to make, this light, refreshing dish is full of flavour and a fine example of the Mediterranean diet that is now seen as a gold standard for healthy lifestyles. What I really loved was its simplicity – often after a long day at work I am fazed by the thought of having to cook a meal, but this was so quick to make last night that it was ready before I could start to grumble. And what taste! The zest of the olives and lemons really brings out the rest of the flavours, which is particularly invigorating on these cold January days. And it's packed full of antioxidants and nutritional benefits to help fend off those post-holiday winter coughs and sniffles. Overall, a bright and colourful vegetarian meal to keep you feeling energised and get you looking forward to the year ahead – and if you make too much it makes for a great lunch the next day!
Pasta with Courgettes, Rosemary & Lemon
Serves 4
Ingredients
350 g/12 oz dried pasta shapes, e.g. rigatoni
11/2 tbsp good-quality
extra-virgin olive oil
2 garlic cloves, peeled and finely chopped
4 medium courgettes, thinly sliced
1 tbsp freshly chopped rosemary
1 tbsp freshly chopped parsley
zest and juice of 2 lemons
25 g/1 oz pitted black olives, roughly chopped
25 g/1 oz pitted green olives, roughly chopped
salt and freshly ground black pepper
To garnish:
lemon slices
sprigs of fresh rosemary
Method
1. Bring a large saucepan of salted water to the boil and add the pasta.
2. Return to the boil and cook until the pasta is al dente or according to the packet instructions.
3. Meanwhile, when the pasta is almost done, heat the oil in a large frying pan and add the garlic.
4. Cook over a medium heat until the garlic just begins to brown. Be careful not to overcook the garlic at this stage or it will become bitter.
5. Add the courgettes, rosemary, parsley and lemon zest and juice. Cook for 3–4 minutes until the courgettes are just tender.
6. Add the olives to the frying pan and stir well. Season to taste with salt and pepper and remove from the heat.
7. Drain the pasta well and add to the frying pan. Stir until thoroughly combined. Garnish with lemon and sprigs of fresh rosemary and serve immediately.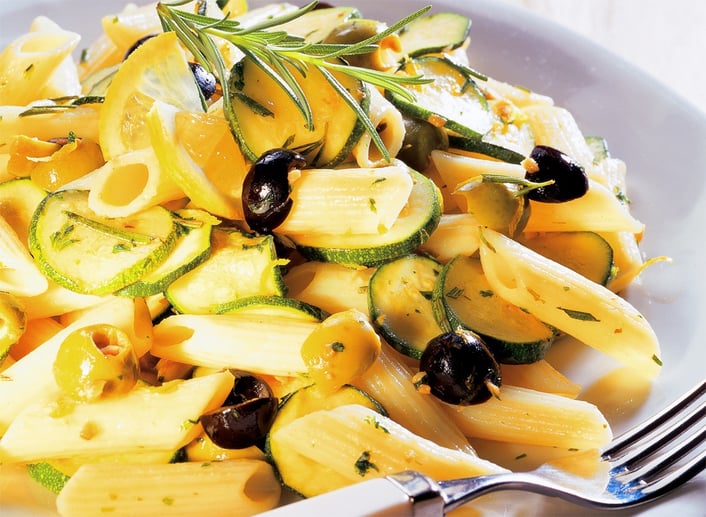 This recipe was taken from our book Low Fat: Healthy Eating (ISBN: 9781783611171), which is available on Amazon here.
For other simple and tasty Flame Tree Recipes, have a look at our Top 10 Simple Recipes for Healthy Eating on our Cooking Blog
Opening Image via BBC Good Food.
Links
For a quick, concise reference on the nutritional benefits of selected fruit and vegetables, click here.
Explore the health benefits of a Mediterranean Diet with this handy guide.