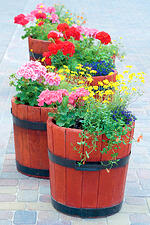 The fresh scent of Spring is in the air, the birds are chirping, the bees are buzzing, and it is time to start that container garden! We've talked about choosing the proper container and picking the right compost and today it's time to discuss arranging your pots and choosing the right colour scheme.
Arrangement
A fundamental aspect of all design is the use of proportion. Take in to consideration the shape and size of your containers as well as your placement. Containers can be easy to move around, so have fun experimenting to see where and which containers work best.
Grouping containers can either be formal or informal. For a more formal look, place similarly-sized containers together at regular intervals. Use them at the edge of a border or to flank a path. If you have a pool, highlight its geometry by placing a container at each corner. For a more informal look, use odd numbers of containers and group them together in a range of sizes. A large container can serve as an impressive focal point at the end of a path or the centre of your lawn.
The Golden Section
When arranging containers the spaces in between them can be as important visually as the containers themselves – what designers often refer to as 'volumes and voids.' Often in architecture, graphic design and classical painting, the Golden Section, or Golden Ratio, is used. This ratio is found throughout nature and can help you space your containers in a pleasing and natural way.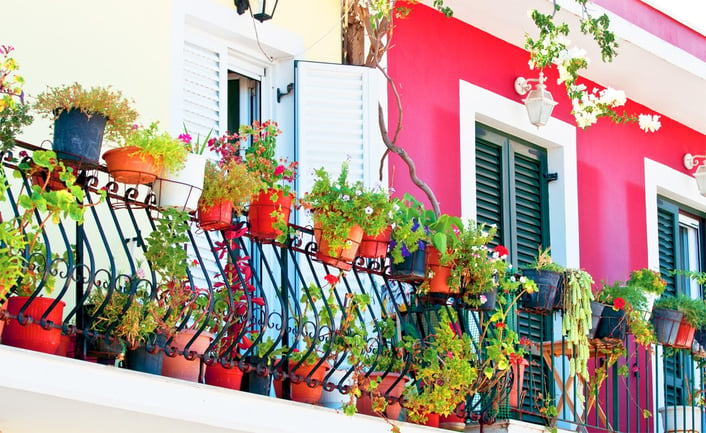 The Golden Section breaks a line in to two unequal parts so that the proportion of the shorter and the longer part is the same as the proportion of the longer part to the whole. This means, in practice, that the Golden Section is a ratio of 1:1.6, or 5:8. This proportion is helpful in choosing the height of a plant in proportion to the container, or choosing the spacing between containers along a path.
For instance, if you plan on planting a clipped box obelisk that measures 40 cm (16 in) in height, choose a 25 cm (10 in) container. If you have a path 1 m (3 ft) wide, place the containers 1.6 m (4 ft 10 in) apart. Of course, you can play with proportions to get the right feel, and break the rules to suit your own preferences.
Colour
Along with placement and container choice, colour is very important to any garden! Use colour to create a range of effects and moods, either vibrant and dynamic, or calm and soothing.
The colour wheel comes in handy when choosing your colour scheme. The three primaries,Red, Blue and Yellow, are placed at even intervals on a wheel. In between are the secondary and tertiary colours, combinations of the adjacent primaries and secondaries.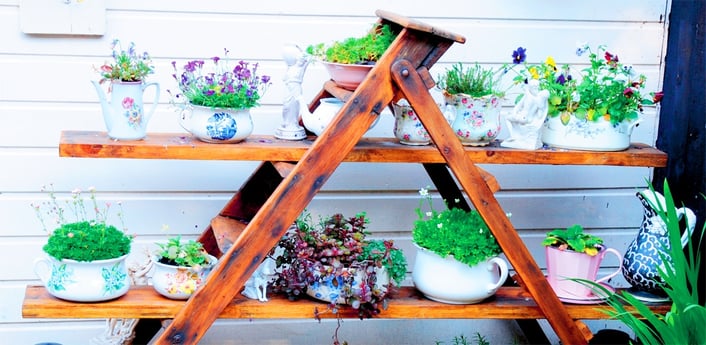 Combining a primary colour with its complementary colour creates a bold and exciting effect. For less of an impact, use paler primary colours with their complementary. For example, pink with green, pale blue with orange or cream with violet.
Avoid a colour scheme with only primary colours. The eye has trouble finding a resting place, making the garden feel too 'busy.' Complementaries put together create an impressive display, but if you are looking for a more relaxing effect, try colours adjacent to each other on the colour wheel.
For some schemes, colour is not meant to be dominant, or you may just not like colour. In these cases there are plenty of plants with subtler hues. Some include:
Ballota
Convolvuslus cneorum
Helichrysum Petiolare
Hosta (some)
Lavandula (lavender)
One of the most soothing colour to our eyes is green. Consider arranging your garden with no flowers at all, taking advantage of the relaxing green in leafy hostas and bamboos. These can create a lush, sometimes tropical feel.
While many believe white to be a soothing or restful colour, it is not always the case. White can often appear to 'loom' in the garden as white is the most dominant of all colours. With bright light reflecting off the flowers, they appear bigger than they actually are. In a more shady area and at dusk when the light is beginning to fade, white flowers can look truly fantastic.
Whatever your vision may be, colour and container positioning can make your garden stand out. Experiment with different arrangements and colour schemes to find the right fit for your garden.

This post is based off extracts from our book Container Gardening by Andrew Mikolajski (ISBN: 9781783611348). This title is part of our Digging and Planting series which is packed with tonnes of expert advice. You can order it from our website here or on Amazon here.
Links