The holiday season is upon us! Whether for you Christmas is a time to remember the birth of Christ or simply rejoice in the festivities that brighten up a dark winter, there is much to enjoy. In today's blog we're offering a classic Christmas recipe – mouthwatering Mince Pies – as well as a fun seasonal craft project for all the family.
Christmas Recipe – Luxury Mince Pies
Makes 20
Ingredients
275 g/10 oz plain flour

25 g/1 oz ground almonds
175 g/6 oz butter, diced

75 g/3 oz icing sugar

zest of 1 lemon, finely grated
1 egg yolk 3 tbsp milk
For the filling:
225 g/8 oz mincemeat
1 tbsp dark rum or orange juice
zest of 1 orange, finely grated
75 g/3 oz dried cranberries
icing sugar, for dusting
Method
Sift the flour and ground almonds into a bowl or a food processor and add the butter.
 Rub in, or process, until the mixture resembles fine crumbs. Sift in the icing sugar and stir in the lemon zest. Whisk the egg yolk and milk together in a separate bowl and stir into the mixture until a soft dough forms. Wrap the pastry in clingfilm and chill for 30 minutes.
Preheat the oven to 200 ̊C/400 ̊F/Gas Mark 6. Grease two 12-hole patty tins. Roll out the pastry on a lightly floured surface to 3 mm/1⁄8 inch thickness. Cut out 20 rounds using
a 7.5 cm/3 inch fluted round pastry cutter. Re-roll the trimmings into thin strips.
Mix the filling ingredients together in a bowl. Place 1 tablespoon of the filling in each pastry case, then dampen the edges of each case with a little water. Put four strips of pastry over the top of each case to form a lattice.
Bake for 10–15 minutes until the pastry is crisp. Dust with icing sugar and serve hot or cold.

Christmas Craft – How to Make a Christingle
Place a red ribbon around the middle of an orange, or you can use red tape.
Cut a small cross in the top of the orange, but make sure you have something like a tray underneath it to catch any juice. Place 
a square of foil (75 mm/3 inches) over the cross and then wedge a candle into the cross.
Skewer soft fruits (such as raisins, sultanas and cherries) and soft sweets on four cocktail sticks and then insert them into the orange around the base of the candle.
You may need to cut a slice from the bottom of the orange so that it has a base. Store in a cool place.
What it Means
The orange represents the world and the red ribbon the blood of Jesus. The fruits and sweets on the four cocktail sticks represent the four seasons. Finally the lit candle symbolizes Christ, the light of the world.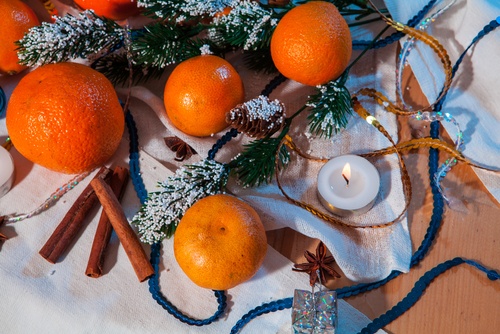 The Luxury Mince Pies recipe and much, much more can be found in our Baking for Beginners book – perfect for new bakers; or why not look at our other book Baking, packed full of even more scrumptious recipes.
Links
Looking for more Christmas craft ideas? Martha Stewart offers some suggestions here.
There are plenty of festive fun and games to be had on this website; and on Christmas Eve you can even track Santa's path across the globe live.
To discover 18 things you probably didn't know about Christmas, click here.