This week we take blues back to the Chicago classics with the legendary electric guitarist, and the face of 1950s blues itself, Muddy Waters.
Bridging Delta and Chicago
Muddy Waters (1915–83) is the vital link between the pre-war Delta blues and the post-war Chicago blues. Born in Rolling Fork, Mississippi, he grew up on Stovall's Plantation near Clarksdale and became steeped in the slide-guitar blues of Son House and Robert Johnson. In 1941 he was recorded by archivist Alan Lomax playing 'Country Blues' and 'I's Be Troubled'.
Sliding North
Two years later, Waters moved north to Chicago, following the general migration. While his voice still sounded as if it was coming from the cotton fields on his 1946 recordings, his amplified guitar (necessary if he was to be heard above his band) opened up a whole new dimension for his Delta licks. By 1948, when he had his first local hit with 'I Can't Be Satisfied' (an updated version of 'I's Be Troubled'), his guitar playing had developed a trademark style, bringing a more aggressive quality to his single-note Delta riffs and slide technique.
Topping the Chicago Charts
Waters put together a prime band of musicians he could rely on – guitarist Jimmy Rogers, bassist Willie Dixon, pianist Otis Spann and harmonica player Little Walter – and built a powerful reputation in Chicago's clubs and bars, helped by his own commanding presence. During the mid-Fifties Waters recorded a series of songs that would become anthems of Chicago blues: 'I Just Want To Make Love To You', 'Got My Mojo Working', 'I'm Ready' and 'I'm Your Hoochie Coochie Man'. The last two used a variation on the call-and-response songs from the Delta plantations, with Waters filling in the spaces with moaning vocals or stinging guitar breaks.
Rolling Stone and Rock n' Roll
By 1960, when he played the Newport Jazz Festival (released as At Newport), he was the leading Chicago bluesman. He took advantage of the British blues boom of the Sixties to broaden his audience, touring the UK and Europe and recording The London Muddy Waters Sessions (1971) with Rory Gallagher and Georgie Fame. During the Seventies he toured with the Rolling Stones and Eric Clapton and appeared in the Band's 'The Last Waltz' concert and film. His record career was revived in the late Seventies with a trio of Johnny Winter-produced albums: Hard Again (1977), I'm Ready (1978) and King Bee (1981). He died in his sleep from a heart attack in 1983.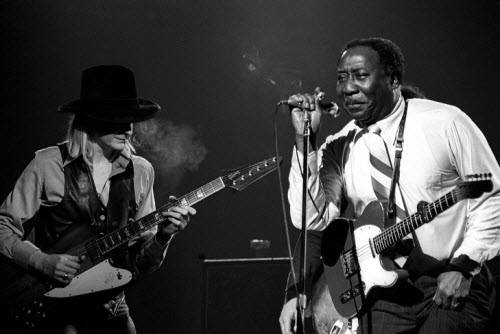 Learn to play riffs from the guitar greats from blues to punk, metal and jazz with our book Pick Up & Play Classic Riffs here. For a more comprehensive almanac, featuring dozens of the best guitarists ever to strike the sounds of history, check out Rock Guitar Heroes, available now on our website.
Links