Last Saturday, September 7th, saw the anniversary of Buddy Holly's birthday
. The legendary rock'n'roll artist would have celebrated his 77th birthday, had his life not been cut tragically short by a fatal plane crash in February 1959. He was just 22 years old. Thinking about how much he achieved in this short time reminds me that Buddy Holly truly was one of the most important influences, if not
the
most, on early rock'n'roll.
"Buddy's music is timeless. His songs are not dated. His thinking was way before its time. I think he basically invented, […] guitar licks that pretty much every guitarist uses in his music."
Buddy Holly's niece Holly Kaiter
Musical Beginnings
Buddy Holly was born Charles Hardin Holley in Lubbock, Texas, on 7 September 1936. Buddy got a guitar in his mid-teens and started practising with friend, Bob Montgomery. They liked country and western but also had predilection for the blues. An Elvis gig in Lubbock in early 1955 alerted them to new possibilities. Buddy and Bob, as they called themselves, played local radio stations and were making a reputation; but when agent Eddie Crandall managed to get Holly a deal with Decca in Nashville, after seeing him support Bill Haley, Bob was not included.
A False Start And A New Dawn

Holly recorded under the auspices of legendary producer Owen Bradley, and released 'Blue Days, Black Nights' in July 1956. It did well enough to earn another couple of dates in the studio. 'Modern Don Juan' appeared in late 1956 to a muted response. Bradley, steeped in country, did not quite know what to do with new rock'n'roll sound. Holly returned to Norman Petty's studio in Clovis, New Mexcio, where he had previously recorded some demons. Petty had a well-equipped operation. As at Sun Studio in Memphis there was no time-limit on sessions, and as at Sun, Petty had developed his own echo technology.
Growing Fame
Buddy had apparently been talking about their future fame, and Allison, quoting from the recent film, The Searchers, had answered with the catchprase of John Wayne's character–'That'll be the day…'. This became the title of The Crickets' first hit, released in its demo form by Coral. It went to the US No. 1 in summer 1957.
Hitting the market with songs under the band's moniker and with his own name became the norm. It doubled the chance of airplay. This dual success continued with 'Peggy Sue', a Holly track; then a couple of Crickets' release, 'Oh Boy' backed with 'Not Fade Away' (one of the strongest pairings in rock history) and 'Maybe Baby'; followed by two Holly numbers, 'Listen To Me' and 'Rave On'. In the midst of this the band were touring heavily with a new bassist and guitarist, Joe B. Mauldin and Niki Sullivan–notably on the 'Biggest Show Of Stars For '57' package, with Chuck Berry, The Everlys and Fats Domino, amongst many others. The sessions at Clovis also bore fruit in two of the finest albums of the era, The Chirping Crickets in November 1957 (March 1958 in the UK) and Buddy Holly in March 1958 (July 1958, UK). 'Words Of Love', from the latter, and 'Peggy Sue' both used pioneering overdubbing and double-tracking techniques. More evidence of both Petty and Holly's willingness to experiment.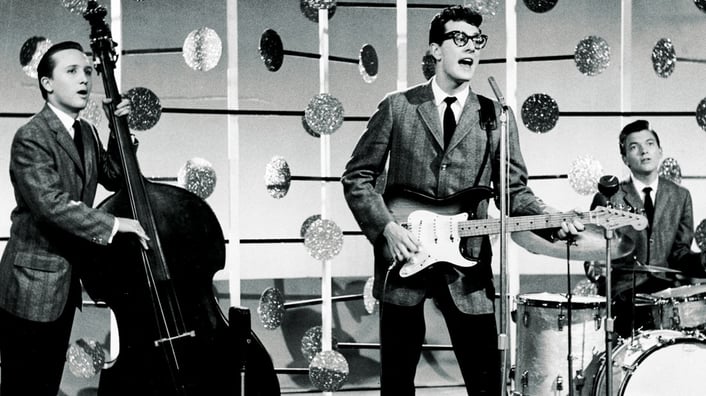 The saying 'only the good die young', really is fitting when talking about Buddy Holly. When he tragically died on 3 February 1959 he became not only a legend of rock and roll history in his own right but also the first of a whole group of iconic musicians – including Otis Reading, Jimi Hendrix, Kurt Cobain and Amy Winehouse – who died prematurely. Buddy Holly's legacy is always remembered as one that influenced rockers and singer/songwriters alike, from Bob Dylan to Elvis Costello, from The Rolling Stones to Paul Simon.
This post is based on an entry written by Joe Cushley, from our bestselling book, The Definitive Illustrated Encyclopedia of Rock edited by Michael Heatley (ISBN: 978-1-84451-521-9).
Links
Check out this Buddy Holly YouTube channel here

For all your Buddy Holly and The Crickets information head here

Interested in music? Check out @FlameTreeMusic on Twitter here