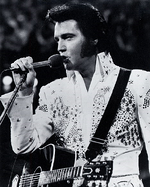 Last month saw ITV1 countdown the 20 best-loved Elvis songs, as voted for by viewers in a 90-minute feature length show. With some of Elvis's best loved songs from the hip-shaking 'Hound Dog' to the slower, more soulful 'Always On My Mind', the show also featured interviews from friends and loved ones, including ex-wife Priscilla Presley and British icon Sir Cliff Richard. We thought we would take a look at Elvis's early influences that contributed to the countless hits he released. But what did ITV viewers vote as their number one Elvis song of all time? Read on to find out...
Humble Beginnings
The child who would become known to millions simply as 'The King' and who would possess riches beyond most people's imagination came from humble beginnings. Little Elvis Presley entered the world on 8 January 1935, born to Vernon and Gladys Presley in a small, two-bedroomed house in Tupelo, Mississippi. Elvis had a twin, Jessie Garon, but sadly he was stillborn, meaning Elvis grew up an only child. Gladys, a seamstress, doted on her boy and encouraged his musical ambitions.
Elvis's early musical influences revolved heavily around church music. The social life of the Presley family centred on their church and on listening to the 'Grand Ole Opry' every Saturday. However, Elvis grew up in the area known as the Mississippi Delta, where legendary artists such as Robert Johnson and Muddy Waters played the blues. Elvis had far more exposure to the music of blues-playing artists than he would have if born in the North. He also enjoyed the Afro-American sounds being played on Memphis's famous Beale Street as a teen. His favourite black artists included Mississippi Slim, B.B. King and Arthur 'Big Boy' Crudup.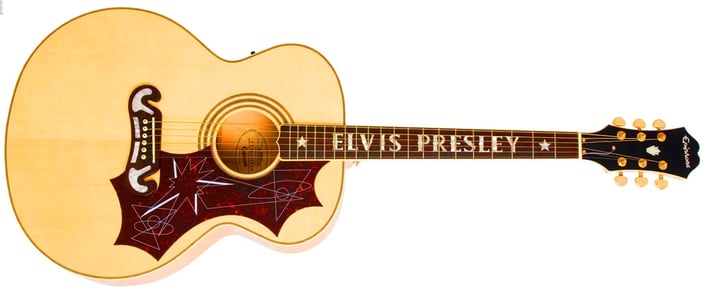 The Elvis Way
By the time he received his first guitar, aged 11, Elvis had already been a part of several church choirs in his hometown of Tupelo, Mississippi. Gospel singer Sister Rosetta Tharpe influenced Elvis tremendously with her modern renditions of many gospel songs. It was Tharpe who originally wrote and performed 'Hound Dog'. The song performed in the Elvis Presley way, a very different sort of performance altogether, would later become one of his biggest hits of all time. But when Elvis started middle school at Milam Junior High he was regarded as a bit of a loner, especially when he began practising his guitar during the lunch break, he was teased for being 'trashy' and playing 'hillbilly' music.
During his early teens, Elvis expanded his musical horizons via what he heard on the radio, in church and at record stores. He began to change his appearance, wearing dress pants whilst everyone else wore jeans. He also wore his hair and sideburns long. As a teen, Elvis would sneak into Rhythm and Blues clubs on the famed Beale Street in Memphis which had seen B.B. King, Ma Rainey, and Muddy Waters play there.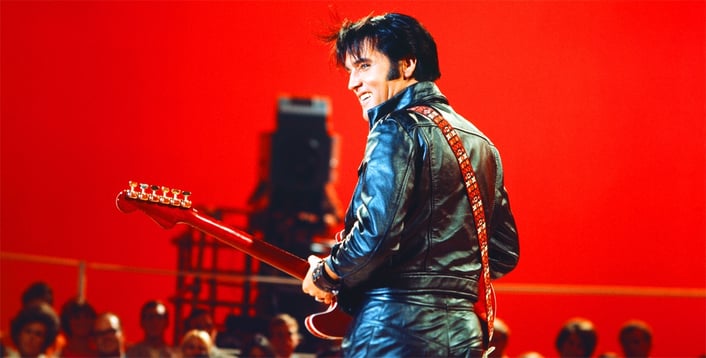 Music on the Mind
Elvis's musical obsession began to affect his schooling, and he dropped from a promising student to a straight-C one. He even got a C for music! His education was neglected in favour of movie theatres, record stores and gospel events. With money tight, Elvis was forced to work odd jobs to help supplement the family income. On 9 April 1953, Elvis performed in the Humes High School annual Minstrel Show, and brought the house down with his performance of Teresa Brewer's 'Till I Waltz'.
After high school, Elvis wasted no time in pursuing his dream. In July 1953, he rocked up to Sun Studios, Memphis and asked the receptionist if he could pay to record a demo. Owner Sam Phillips wasn't in, but Elvis was allowed to record a demo anyway, shelling out US$4 to record 'My Happiness' and 'That's When Your Heartaches Begin'. He claimed the demo was a birthday present for his beloved mother.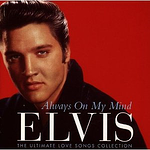 The Nation's Favourite
With demo in hand things weren't to be all plain-sailing from here on in. However what is important to remember is that Elvis's early determination coupled with his smooth vocals, moves and passion for all genres of music contributed to him earning the title of The King as well of millions of followers both past and present. But what song did viewers vote as their number one Elvis song of all time? 'Always On My Mind' of course! Originally recorded by Brenda Lee in 1972, Elvis recorded his version in the same year just weeks after his separation from wife Priscilla. The song, which was a hit in the UK and US upon its release has only grown in popularity and is truly regarded as the nation's most favoured Elvis song.
Links
Check out the King of Rock 'n' Roll's official website here

For all of Elvis's videos and hits head to his official You Tube channel here

For all the latest music news then follow Flame Tree Music on Twitter here