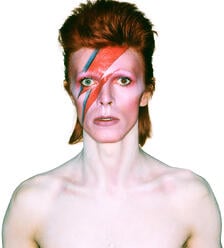 Young mod. Hairy hippie. Ziggy Stardust. Aladdin Sane. Halloween Jack. The Thin White Duke. Plastic Soulman. Godfather of the New Romantics. Tin Machinist.
Across the course of his four decades-plus career, David Bowie has adopted more personas and musical genres than just about any other musical icon. He has viewed his hit 70s music and public profile as intertwined, at one point having a different image for each new album. By wrapping himself in artifice, he not only brought to pop a new theatricality but he also kept the world intrigued and waiting for the next instalment of his glittering career.
David Bowie has inspired more musicians than most recording artists, but he naturally also had his own formative influences. So where do we begin on our quest to unearth the foundations of Bowie's inspiration?
Elvis Appreciation
It almost goes without saying that Elvis Presley was important to him: few of the musicians who became teenagers in the Sixties weren't overwhelmed by The King's stunning larynx and greaseball beauty. Perhaps revealingly, Bowie – a man who has often appeared to be as much into music's effect as its content – seemed mostly impressed by 60s music, specifically enthralled by Elvis's impact on people, recalling an incident where a cousin got up and launched into an abandoned dance to the strains of 'Hound Dog'.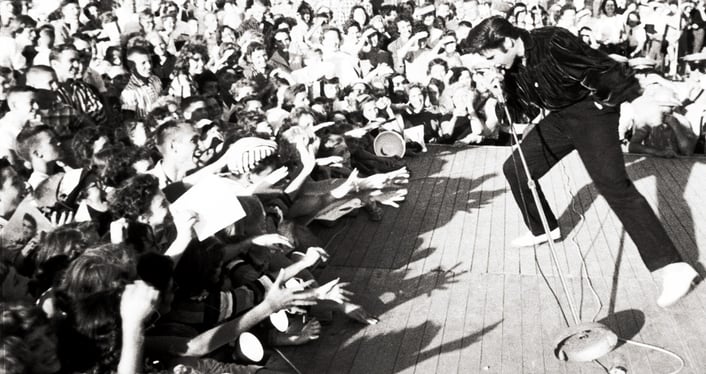 From Little Richard to Jazz
Another revealing detail, perhaps, is Bowie's love for Little Richard. The piano-pounder with a towering pompadour and Errol Flynn moustache had an outrageous, androgynous image and laced his lyrics with sexual explicitness that the grown-ups were too square to understand. Remind you of anyone?
Almost predictably, though, Bowie's love of music was more nuanced than that of his peers. He was turned on to modern jazz by his brother, leading to the 'difficult' likes of Charles Mingus and John Coltrane often inhabiting the family turntable. Jazz's penchant for wandering time signatures and elastic form can be discerned in Bowie's more experimental works, while the alto sax that his love of the genre inspired him to take up can be heard scattered throughout his entire catalogue.
Marc Bolan
Bowie's first album speaks of a love of the studiedly English singer Anthony Newley, while Hunky Dory featured 'Song for Bob Dylan', in which he lamented Dylan's current loss of form. Although most would claim that Marc Bolan was a musical pygmy compared to Bowie's goliath, it cannot be denied that the T. Rex man was more than just a mate. The glam rock movement that Bolan kicked off with his glittered cheeks and feather boas made possible the more sophisticated ventures by Bowie into that foppish territory. It's rumoured that Bowie's 'Lady Stardust' is at least partly about Bolan.
Producing His Idols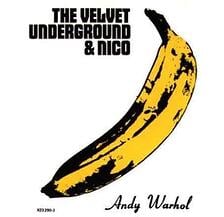 One of Bowie's most enduring influences was The Velvet Underground. This New York-based ensemble had no hits and little success during their 1967–70 recording career but, in writing gritty songs about street life, drug addiction and violence, helped popular music to grow up. This growing process applied to their sonics as much as their lyrics: they experimented with atonality, dissonance and extemporization, even while insisting on their right to purvey pretty melody. Bowie acknowledged on the sleeve of Hunky Dory that that album's buzzsaw rocker 'Queen Bitch' was a Velvet Underground pastiche. Bowie repaid his artistic debt to the band by producing with Mick Ronson Transformer, the 1972 album by Lou Reed (frontman and chief songwriter of the Velvets) which bequeathed UK hit single 'Walk On The Wild Side'.
In fact, Bowie's early Seventies production work is a veritable litmus test of his respect for specific artists. He also offered a helping studio hand to The Stooges – pioneering punk-metallers coming to the end of their tumultuous life – and their frontman Iggy Pop, who was just beginning his solo career. In Mott the Hoople he actually rescued an admired band, who had decided to split up, and set them on the path to greater glory by gifting them a hit with 'All The Young Dudes' and helming their 1972 album of the same name. He then watched them achieve even greater success after their frontman Ian Hunter elected to base his new songwriting technique on 'Dude''s pop culture iconography.
Throughout his career, Bowie has reaped success from pulling elements from the works of his most cherished artists and incorporating them within his own music. As he pulls from classic 60s music, he gives his 70s music an old-school flare, while simultaneously managing to create a sound that was new and innovative. His music speaks as a testament to the great artists who came before him and he more than willing to give credit where credit is due.
Links