Key Strat Facts
Pickups: Three
Controls: Three-way (later five-way) switch, volume, two tone
Characteristics: Wide tonal range, versatile, vibrato arm
Played by: Jeff Beck, Buddy Guy, Jimi Hendrix, Mark Knopfler, Stevie Ray Vaughan
Fender Goes One Better
The first in our series looking at classic guitars and the legends who played them, we highlight what is probably the most famous guitar by the most famous manufacturer...
While Fender's Telecaster was an extremely popular model, some criticized the instrument for its 'Plain Jane' appearance and for its sharp edges, which could be uncomfortable to hold. Heeding these complaints, Leo Fender and colleague Freddie Tavares went back to the drawing board, introducing the Stratocaster in 1954.
The Construction
The Stratocaster was designed with a sleek body, smoothly contoured for the player's comfort. Its double-cutaway style afforded players access to high notes while adding visual appeal. The Stratocaster had advanced electronics; it was the first solid-body to incorporate three pickups. The pickups possessed staggered polepieces, providing for even volume levels across all six strings. Furthermore, players discovered that the instrument's three-way switch could be set in between positions, which created a unique 'out-of-phase' sound, exploited to excellent effect by Jeff Beck and Jimi Hendrix, among others.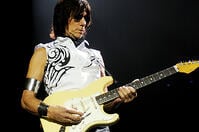 Five-way switches were later introduced to make this sound easily accessible. Another Fender first was represented by the Stratocaster's all-in-one bridge, tailpiece and tremolo bar. With its six individual saddles – one for each string – moveable in both height and length directions, the new bridge portion was fully adjustable. By releasing tension on the strings, the tremolo bar allowed a player to bend notes with the pick hand, resulting in a shimmering sound effect. Inside the body, the strings were accessible under a plastic cover at the back of the guitar.
Cars and Guitars
Stratocasters are among the most coveted guitars on the vintage market. Most desirable are the late-1950s Custom Color models. Inspired by the paint jobs on automobiles, these finishes – including Fiesta Red, Lake Placid Blue (pictured above), Foam Green and Shoreline Gold – are rare; a Custom Color Stratocaster can now command over 20 per cent more than its sunburst- or blonde-coloured counterpoint in identical condition.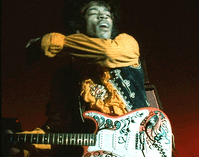 Jimi Hendrix – Stratocaster Miracle Worker
Jimi Hendrix (1942–70) remains the most innovative and influential rock guitarist in the world. He changed the way the guitar was played, transforming its possibilities and its image. Other guitarists had toyed with feedback and distortion but Hendrix turned these and other effects into a controlled, personalized sound that generations of guitarists since have emulated and embellished.
He was left-handed and played his favourite guitar, a right-handed Fender Stratocaster, upside down and re-strung, giving him a different perspective on the Fender's tremolo arm and enabling him to bend notes and chords without the strings going out of tune. He continually looked for ways to get new sounds out of the guitar, from electronic gadgets to
experimental techniques.
Fender built several instruments in the late '60s made completely of hand-selected rosewood. These were in production only very briefly and are now highly collectable on the vintage market. Jimi Hendrix reportedly had one of the first Rosewood Stratocaster guitars (replica pictured below).


Links