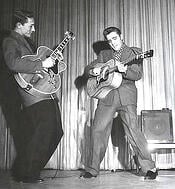 The original rock'n'roll lead guitarist, and Elvis's main man, Scotty Moore (b. 1931) was born near Gadsden, Tennessee. Moore began playing guitar at the age of eight, largely self-taught. Although he aspired to playing jazz like Barney Kessel and Tal Farlow, he was also influenced by country guitarists like Merle Travis and, in particular, Chet Atkins.
Sun Records
After Navy service Moore formed a hillbilly group, the Starlite Wranglers in 1952 with Bill Black on upright bass. After Moore struck up a rapport with Sam Phillips, the proprietor of Sun Records, Phillips suggested that Moore and Black accompany his protégé, Elvis Presley (pictured right). Initially the sessions were unproductive until the trio began playing 'That's All Right (Mama)', which captured the chemistry between them and became Presley's first single in 1954.
Moore and Black, along with drummer D.J. Fontana, backed Elvis on his greatest records. Before Chuck Berry and Bo Diddley, Moore fused various strands of American music to create the language of rock'n'roll lead guitar, establishing it as the main instrument and inspiring countless guitarists. His style was clean, simple and economical, primarily at the insistence of Sam Phillips. Moore favoured Gibson guitars, using the semi-acoustic ES-295 on early Sun recordings with Presley and switching in 1955 to an L5 and later to a Super 400 CES.
To Memphis
Moore continued to back Elvis until 1958. He made his only solo album, the all-instrumental The Guitar That Changed The World (1964) and worked with Presley again during the Sixties, appearing with the singer for the last time in the ''68 Comeback Special' television performance. Afterwards, Scotty virtually retired from playing for 23 years, founding his own recording studio in Memphis and concentrating on engineering records and television productions. He was reunited with D.J. Fontana on All The King's Men (1997), an all-star celebration of Elvis's music.
Still Going Strong
Moore has spent most of the last 10 years performing at tribute shows with disciples such as Eric Clapton and Mark Knopfler and accepting awards for his legendary contribution to rock'n'roll. He was inducted into the Rock And Roll Hall of Fame in 2009.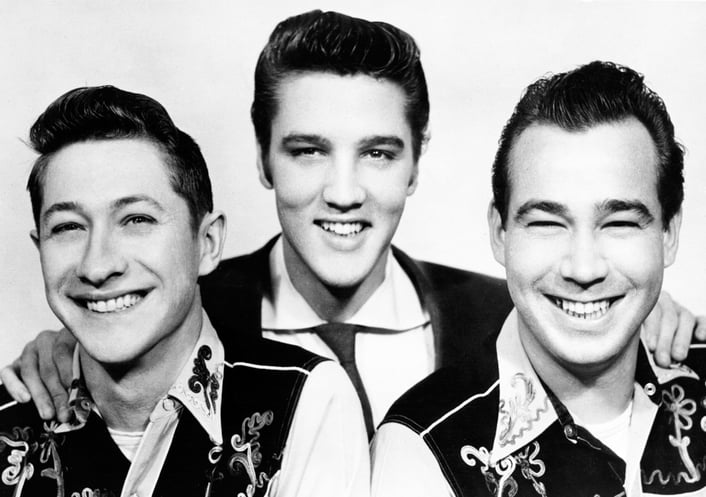 In 2006 Scotty very kindly wrote the foreword to our Definitive, Illustrated Encyclopedia of Rock:
"I've been in music most of my life and have worked with some great musicians, like Elvis and Keith Richards and Eric Clapton. But when I first started, after I came out of the Navy, all I had in mind to do was start a little band and pick up some work at the weekends, and maybe some sessions from Sam Phillips at his studio on Union Avenue, to go with my job as a milliner. Well, I got a band, The Starlite Wranglers, and we released a record on Sun which probably sold about a dozen copies. But I got friends with Sam and we used to go and sit in Miss Taylor's restaurant next door to the studio and talk about everything. And somehow, through Sam and his secretary, Marion Keisker we fixed up an audition with this new kid, Elvis Presley. We were in the studio and were nearly done – Bill Black, the bassist and me had to work the next day – then just as we were about to pack up, Elvis started goofing around on the old Arthur 'Big Boy' Crudup tune, 'That's All Right', and we just fell in behind. We just thought it was still the audition when Sam told us to do it again, we didn't realize that was going to be Elvis's first record!
Some people say my second solo on 'Hound Dog' is the first rock'n'roll guitar solo, or one of the greatest, or whatever, but that was a bit of an accident too! We'd done it and done it and done it. I don't know how many takes. And Elvis said, 'let's do one more'. I was as mad as heck, and I thought, to hell with it. There was no beating around the bush with that one! I always tried to do something different on the solos, to keep an improvized feel. I suppose that might have come from the jazz guitarists I liked, such as Tal Farlow. But I grew up listening to and playing all sorts: B.B. King; Chet Atkins; blues; country; jazz; all sorts. I guess it came from that Triangle of Mojo; New Orleans; Memphis; Nashville; where it all got mixed up. I'd never claim to be a great musician, but I always listened to a song and tried to play what was appropriate. I tried to keep an open mind, not just play a bunch of notes. I'd listen and try and do something a bit different, put my own mark on it.
After Elvis went into the Army I started working as an engineer and producer. I'd always watched and listened wherever we'd recorded and picked up things along the way. I ended up working for Sam again at his new Memphis studio. We did a lot of soundalike recordings, and for that you had to take the songs apart. That's how I came in contact with The Beatles and The Rolling Stones. To me they were in the same vein as us when we started out in '54. They took it and hit us right back in the face with it. I loved it! When I played with Keith Richards later, it seemed like we'd known each other for ever. He said to me, 'everyone wanted to be Elvis, I wanted to be you!'. I guess maybe I opened the door for them; that's sort of what George Harrison and Mark Knopfler said to me, too.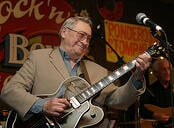 I hung-up my guitar after a solo album and went to work at my Nashville studio, Music City Recorders where I engineered Ringo Starr's Beaucoups Of Blues in 1970, among many others, and then freelance. I just loved being around music in any form. I started to play live again in the early 1990s with The Jordanaires and Carl Perkins. I still play and record, but it's not really a business for me anymore. Unfortunately, there's too much business around. There always has been. It's what ruined Elvis, having to do all those crappy songs in those movies. It's always about the bottom line. I was inducted into the Rock And Roll Hall Of Fame's new Sideman category in 2000, but they seem to have let that slip, which is a great shame. Everything comes down to money. There should be Halls Of Fame for engineers and writers and so on.
"
Links
If you want to know even more about Scotty Moore then his official website can be found here.

Our 448p Illustrated Encyclopedia of Rock is out of print now but copies of the first edition are still available on Amazon.

Check out our brilliant illustrated ebook on Elvis, you'll find it available from itunes here.