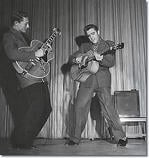 In this, the next in our survey of Classic Guitars from Rock and Roll History – we take a look at Martin acoustic guitars; specifically we go back to Martin's Dreadnought series and one of the first 'luxury guitars' to be made – the steel-string acoustic D-45. We also learn about one of the rock legends who loved playing it, Neil Young...
Key D-45 Facts
Model Pictured: Modern D-45
Construction: Rosewood body, spruce top, mahogany neck with ebony fretboard
Characteristics: Excellent bass response, full tone, loud, well-balanced, magical sound
Played by: Gene Autry, Stephen Stills, Neil Young
Other Martin guitars played by: Jake Bugg (HD-28VS, 000-15SM), Elvis Presley (D-28), Ed Sheeran (LX1E), Mumford & Sons (D-28)
The Martin guitar company was founded in 1833, when German immigrant Christian Frederick Martin set up shop in the US. Martin's first instruments were modelled after those made by Johann Stauffer, an Austrian builder under whom he had apprenticed in the 1820s.
Soon, however, Martin began to experiment with his own construction ideas, and created the design principles that would result in the modern flat-top acoustic guitar.
The Dreadnought Line
Launched in 1931, Martin's Dreadnought line of guitars was named after the hulking British battleship of the First World War. With its wide, deep body, the dreadnought was designed with volume, tone and projection in mind. The first Martin Dreadnoughts were called D-1 and D-2, changed to D-18 and D-28 respectively in 1932. While the plainer D-18 had a mahogany body and the fancier D-28 had a rosewood body, both had a neck that joined the body at the 12th fret; beginning in 1934, the neck joined the body at the 14th fret, effectively extending the guitar's range by a whole step. The D-28 first gained acceptance amongst country and bluegrass guitarists, who needed a big sound to compete with fiddlers and banjoists. The D-28 eventually became the benchmark for flat-top guitar design, and was to be one of the guitars most famously associated with Elvis Presley – appearing on his first album, the 1956 Elvis Presley.
The Singing Cowboy
In 1933, country singer Gene Autry approached Martin with a special request – he wanted a guitar like his hero Jimmie Rodgers' small-bodied 000-45, but with the larger, Dreadnought body style. This resulted in the first D-45, an ultra-swanky guitar with intricate abalone trim and Autry's name inlaid in pearl script on the fretboard. The D-45 proved too expensive to manufacture, and it was temporarily discontinued in 1942; only 91 had been made. Pre-war versions are the most desirable of all flat tops, currently valued from $250,000 to $400,000.
Neil Young
Canadian rock and folk legend Neil Young (b. 1945) plays a Martin Dreadnought, a guitar particularly favoured by folk musicians for the full, expressive sound it produces. His Martin D-45 is in fact his principal steel-string acoustic guitar.
Young become respected as much for his playing as for his composing and vocal work with his occasional partners Crosby, Stills & Nash. Born in Toronto, Canada, Young got a ukulele from his father for Christmas in 1958. In 1960, Young moved to Winnipeg with his mother. A poor student, he dropped out of high school to concentrate on the band he had formed, Neil Young & the Squires.
Later, he played the Toronto coffeehouse circuit, where he met a number of folk artists, including guitarists Richie Furay and Stephen Stills, with whom he formed Buffalo Springfield. They hit with Stills' counterculture anthem 'For What It's Worth' and recorded three albums before splintering in 1968.
Group and Solo Success
Young signed a solo deal with Reprise Records, and his second solo effort, Everybody Knows This Is Nowhere, with his new backing band Crazy Horse, became a major hit, going platinum on the strength of the songs 'Cinnamon Girl' and 'Down By The River'. Young joined David Crosby, Steven Stills and Graham Nash's supergroup in the summer of 1969. He eventually recorded three albums as part of Crosby, Stills & Nash, contributing the hits 'Helpless' and 'Ohio'. His solo career simultaneously blossomed, as After The Gold Rush (1970) and Harvest (1972) both became bestsellers. Harvest was the biggest-selling album of 1972, and the cut 'Heart Of Gold' remains Young's most successful single.
The iconoclastic Young was never comfortable with pop stardom, however, and in the ensuing years created albums with themes that ranged from dispiriting ruminations on love, loss and injustice to affirmations of the simple life. He was hailed by punk rockers, grunge artists and country fans alike because of albums like Rust Never Sleeps (1979), Freedom (1989), Broken Arrow (1996) and Harvest Moon (1992). Over the years since, Young has worked again with Crazy Horse, Pearl Jam, Crosby, Stills and Nash and continues to perform. His guitar playing always echoes the passion, indignation and directness of his lyrics.
Young collects guitars, but onstage and in the studio he mainly uses just a few instruments: as well as his D-45, he also has a D-28 (which used to be Hank William's guitar), a 1953 Gibson Les Paul Goldtop, Gretsch 6120 and White Falcon electrics; and a 1927 Gibson Mastertone, a six-string banjo, tuned like a guitar.
Links