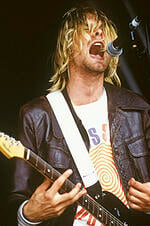 With their music still listened to widely even today, Nirvana were pioneers of alternative rock music. Formed by their eloquent frontman Kurt Cobain and bassist Krist Novoselic, Nirvana found huge success with their second album, Nevermind. Sadly, April 5th marked the 20th anniversary of Kurt Cobain's death. This article takes a quick look back at Cobain's life and the legacy he left behind.
Leading a Generation
Arguably the most important alternative guitarist of the Nineties, Kurt Cobain (1967–94) was born in Aberdeen, Washington. His parents divorced when he was seven, which had a traumatic effect on Cobain, tainting the remainder of his life. From an early age, he showed a keen interest in music, singing along to Beatles' songs on the radio. Given a guitar for his fourteenth birthday, he taught himself to play along to AC/DC and the Cars.
Cobain was influenced equally by hard rock, punk and pop, admiring Aerosmith, Black Sabbath, Led Zeppelin, Cheap Trick, Boston, Sex Pistols, Sonic Youth, the Pixies and, he claimed, the Bay City Rollers. He formed Nirvana with bassist and fellow punk-rock fan Krist Novoselic, and with drummer Chad Channing they formed part of the burgeoning Seattle scene, which would later be termed 'grunge'. The band recorded an album, Bleach (1989), for the local Sup Pop label.
Soon afterwards, Channing was fired and replaced by powerhouse Dave Grohl. In 1990, Nirvana signed to DGC Records and recorded the crossover smash Nevermind (1991) with producer Butch Vig. Trailed by the classic single 'Smells Like Teen Spirit' with its genre-defining quiet verse/loud chorus structure, Nevermind mixed abrasive guitar with pop melodies. Cobain felt that Vig had smoothed out the rough edges of the band's live sound and was determined that the follow-up would capture the real Nirvana; the booming, rumbling In Utero (1993) did just that. Best known for his raw, angry style, Cobain was adept at acoustic work as Unplugged In New York (1994) demonstrates. A notorious destroyer of guitars, Kurt favoured the Fender Mustang. He also used Stratocasters, Jaguars and occasionally a Telecaster, plus his beloved Sixties Mosrite Gospel.
Love
A year after the release of Nirvana's debut EP, Cobain met Courtney Love. The couple's infamy almost parrallels the band's; both in their own rock bands at the time, Cobain and Love bonded over a mutual appreciation of music and narcotics. The shy Cobain was nervous at first and it took months, plus an official introduction, before Cobain ackowledged the relationship. Drawn on a primitive level, the couple have both made comments about the innate sexual tension between them. So much so that Cobain had to break off a prior relationship before dating Love.
The couple were inseperable, sharing long phone calls for hours and Cobain allegedly talking about Love at length to his friends. In many ways they were the difinitive celebrity couple of the Nineties. This left all the more sour taste in Love's mouth after Cobain passed. She was victim to much criticism about her parental skills and subsequently had her daughter taken away because of these allegations. She has said since that though she still loves Cobain greatly, if he ever came back to life she would probably kill him again for all he has put her through since. This said, she has still honoured her late husband on the anniverseries of his birthday and death, this year being no exception.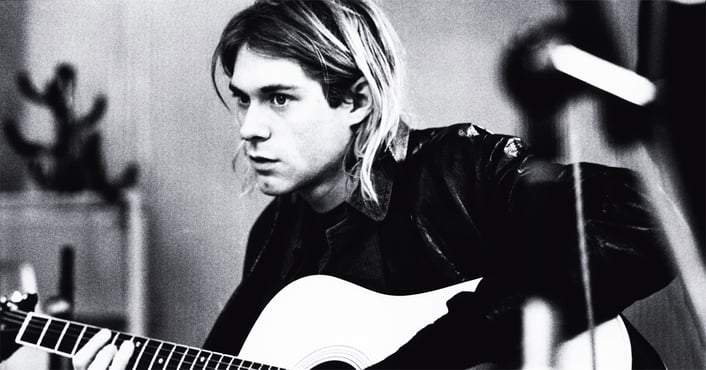 The End of An Era
Nirvana became hugley popular after their second record, Nevermind, was released. The defiantly anti-establishment Cobain did not cope well with his newfound celebrity, and his life degenerated into a tabloid soap opera after his marriage to fellow rocker Courtney Love. Struggling with heroin addiction and stomach pains, which had plagued him since childhood, he tried to commit suicide in Rome while on tour in March 1994. A month later, he shot and killed himself at his home in Seattle.
This post is based off an extract from our best-selling book 'Rock: A Life Story' (ISBN: 9780857758071). Check it out on Amazon here.
Links