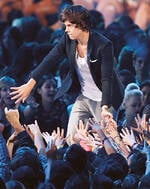 Fresh off the heels of some of One Direction's boys being caught smoking weed on camera, there's still hope for at least one role model left in the band. Harry Styles has given up sex in favour of religion!
While members Louis Tomlinson and Zayn Malik are busy lighting up, Harry has been learning more about the celebrity religion Kabbalah, joining other followers like Madonna, Britney Spears, Mick Jagger, Rihanna, Lindsey Lohan, and Paris Hilton. Harry isn't the only famous pop star to renounce sex. The Jonas Brothers, Selena Gomez and Miley Cyrus herself have all wornpurity rings at one point or another and many fans and critics praised them for their commitment to their values.
Harry's reasoning might be a little less noble, as the pop star has a long history of famous ex-girlfriends and is especially known for his relationship with another pop star, Taylor Swift. While there was a lot of debate about how the infrequency of their hooking up related to their break up, it seems that the pop hunk is tired of his oversexed image and is taking a six month, at least, break from the scandalous act. What this could mean for the teen heartthrob's attractiveness has yet to be seen.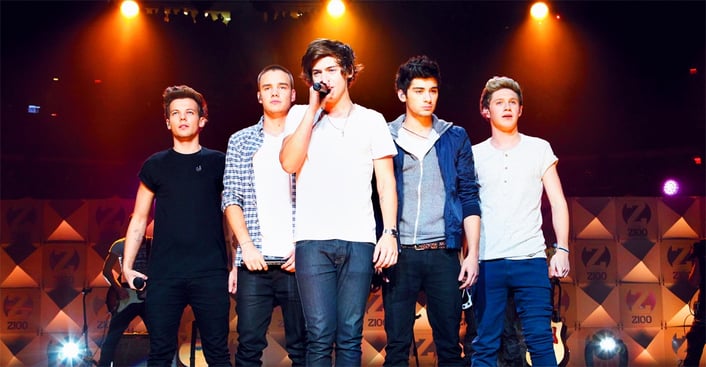 Since rising into fame in 2010, the five boys of 1D have been charming the hearts of tweens, teens and adults across the world, always eventually forgiven for any misdeeds the boys might commit. If Simon Cowell can find it in his heart to forgive the boys, so should the public. The harsh criticism of Louis and Zayn's behaviour in the previously mentioned video of only a few weeks ago has already quieted down, seeming to have caused no problem to the band's image. While some fans (and their parents) were upset with their actions, more have come to the boys defence, supporting their actions as just some boys relaxing and attempting to bring the situation onto the realm of normalcy.
Their fans aren't too far off, as the media and the public have been becoming more and more accepting of celebrities lighting up a little green stuff here and there. Rihanna's Instagram is littered with pictures of the R&B queen connecting with her Caribbean roots and Miley Cyrus lit up on stage at MTV's Europe Music Awards. Both artists have seen a rise, not a fall, in their album sales over the past few years as they've been getting freer with their public image. (Both artists are also followers of Kabbalah as well... could there be a connection? Conspiracy theorists to confirm.)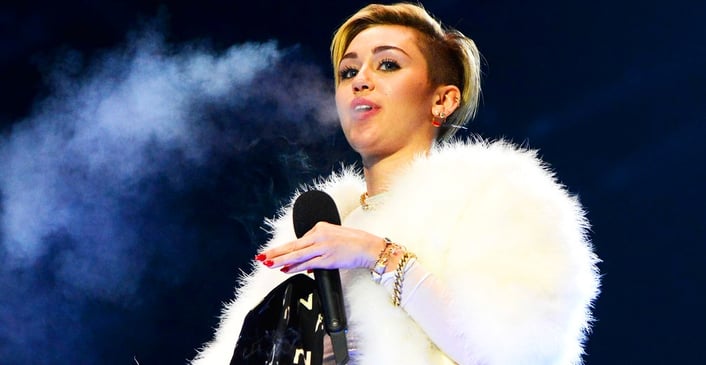 image: Getty/ Kevin Mazur via popsugar.co.uk
There is the chance that the more times the boys are caught smoking illegal substances, the less forgiving their fans will be, much like the entrenched fans of another huge pop star, Justin Bieber. His fans have stood by his side through DUIs and mugshots, plenty of illegal substance abuse, some quite embarrassing videos of Bieber's deposition, and now his upcoming court date for criminal vandalism. Popular public opinion is quickly turning away from the once-golden boy of the pop industry; hopefully 1D's management can save their boys before it gets that far.
It seems in the court of public opinion, that as long as you're true to yourself and in a way that doesn't offend or harm people the general public is happy to let today's pop stars dabble in a little scandalous activity here and there, especially if that means we get to know the real them a little more.
Why not take a look at our fantastic illustrated book One Direction: One & Only or the shorter full-colour illustrated ebook.
Links
Learn more about Harry's new found faith here.

Read on about the other boys' misdeeds.

Find out what Simon Cowell thinks about his boys.