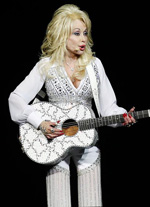 The irrepressible Dolly Parton has been charming the music industry for decades, and she's still going strong. She has been one of the most talked about acts at Glastonbury this year, singing a string of classics such as 'Nine to Five' and 'Jolene'. The star has been accused of miming but her fans, including Stephen Fry, have stood up for her and say this is a ridiculous claim and that her performance on the Pyramid Stage was absolutely amazing. It was topped off with some important rock music news, when Parton's manager Donny Nozell and Glastonbury founder Michael Eavis were welcomed on stage to present her with a plaque to celebrate over 100 million album sales.
Parton was born on 19 January 1946, in Locust Ridge, Tennessee. Immediately after graduation in the summer of 1964, she travelled from the Blue Ridge Mountains to Nashville, taking with her dreams of country stardom and little else. Ever since, she has thrilled audiences worldwide. An entertainer extraordinaire, Dolly has also become an icon of country-style glamour and is adored by the public.
Early Success
Dolly was one of 12 children born and raised in a wooden shack with newspaper pasted on the inner walls to keep out the cold in winter. Her childhood was simple, but her vivid imagination pictured a world beyond her immediate surroundings. She began making up songs at the age of five – before she could even read. With the help of her uncle, Bill Owens, she got to perform on a local radio station at the age of 11, and made her first record – 'Puppy Love' – on Gold Band, a Louisiana label, that same year. The rest is history. Her bubbly personality, colourful make-up, tight-fitting dresses and extravagant hairdos brought a breath of fresh air to Nashville. She signed with RCA in 1968 after a brief spell with Monument and immediately started to change the way women were viewed in both the microcosm of Nashville and country music in the wider world.
She replaced vocalist Norma Jean on The Porter Wagoner Show and became the permanent female singer there in 1967 – a position she held until 1974. Wagoner and Parton took their winning collaboration into the studio as well, making 14 Top-10 singles and winning
the CMA Vocal Duo Of The Year Award in 1970 and 1971.
All The Way To Dollywood
Parton's first solo chart-topper came in 1971 with 'Joshua', after which the floodgates opened. She followed this with some of the most homey country songs ever written, including 'Coat Of Many Colors' (1971), 'Jolene' (1973 No. 1, which crossed over into the US pop chart), 1974's 'Love Is Like A Butterfly' and 'I Will Always Love You', written about her association with Wagoner. This charted again – and made No. 1 – in 1982, when Parton performed it in The Best Little Whorehouse In Texas, a movie in which she starred with Burt Reynolds. However, it found its greatest success, and brought Parton both recognition and riches, a decade later when Whitney Houston recorded it for the soundtrack to The Bodyguard. Houston's version topped the US pop chart for 14 weeks and the UK chart for 10 weeks.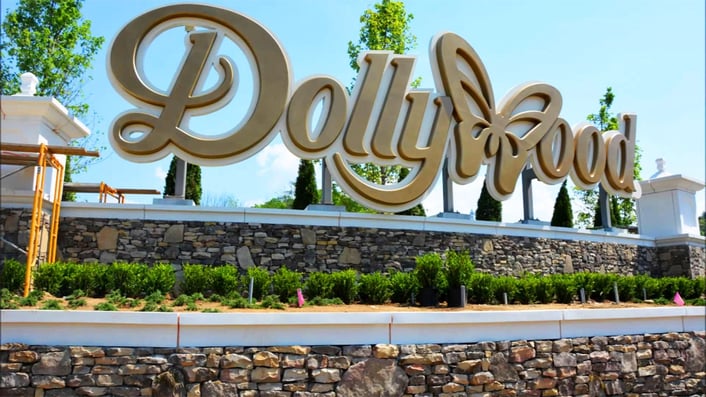 Parton has appeared in a number of notable feature films, including 9 To 5 (with Jane Fonda and Lily Tomlin), Rhinestone (with Sylvester Stallone) and the all-star Steel Magnolias. She also enjoyed recording success when she teamed up with Emmylou Harris and Linda Ronstadt for two albums as Trio. The first album included the 1987 chart-topping single, 'To Know Him Is To Love Him'. Another of her 24 No. 1 hits was 1983's million-selling duet with Kenny Rogers, 'Islands In The Stream'.
In 1975 and 1976, she was voted CMA's Top Female Vocalist and, in 1978, Entertainer Of The Year. A flirtation with pop followed in the 1980s, with 'Nine To Five' (from the movie) topping the US pop chart in 1981, and becoming her second gold single. After her 1999 induction into the Country Music Hall Of Fame, she reverted to recording bluegrass and folk albums. These include The Grass Is Blue (1999) and Little Sparrow (2001), which recalled the music she heard as a child. Dolly Parton has been a major country-music icon for 40 years, and she clearly has no intention of slowing down.
Dolly Parton features in our fantastic gift reference book The Definitive Illustrated Encyclopaedia of Country Music (ISBN: 9781844514069). Check it out on Amazon here.
Links