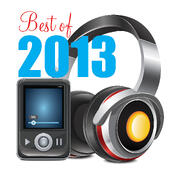 2013 is almost at an end and the world of music has not been quiet this year, oh no! From Bieber goes bad to Rihanna gets raunchy the music world has given us some memorable moments that need to be remembered before the bells of Auld Lang Syne chime! Here, in the first of two blog posts, we count down the most memorable music moments of 2013 from ten to six.
Number 10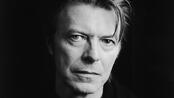 Kicking off our countdown at number 10 is David Bowie and his surprising release of new album The Next Day. His first in almost a decade, the iconic singer not only pleased his millions of original fans but also won an army of new ones. Released in March after an announcement on his 66th birthday in January, the album topped the number 1 spot and brought Bowie well and truly into the 21st century.
Number 9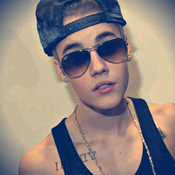 Our music countdown wouldn't be complete without the inclusion of pop music's good boy turned bad, Justin Bieber. The former teen sensation well and truly shook off his baby-faced image this year with a whole host of bad-boy actions. First he turned up late to his concert in London, then he had a scuffle with paparazzi, before being thrown out of a hotel in Brazil for being too rowdy and failing to turn up to a meet and greet where fans had paid £800 to meet their idol. Bieber, maybe in 2014 you should think before you act!
Number 8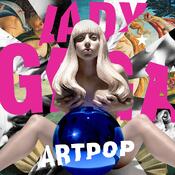 We used to think that nothing Lady Gaga did or wore would fail to shock us, but 2013 turned out to be the year that Gaga didn't live up to her name. Billed as the comeback of the year, after a lengthy break due to hip surgery in 2012, Gaga tried desperately hard to create hype for her new album ARTPOP, even releasing it as an app and getting naked on stage in London. Lady Gaga pictures were everywhere. But all the crazy outfits and Twitter meltdowns failed to excite critics for what is actually a pretty good album! Let's hope we get the Gaga we know and love back in 2014!
Number 7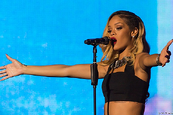 Rihanna took us on another exhausting year in 2013. After the singer completed her 777 tour – seven concerts in seven different cities in seven days – at the close of 2012, she launched her Diamonds World Tour in 2013, promoting her seventh studio album Unapologetic. Scoring number ones around the world and winning awards in countries she probably hasn't even heard of, Rihanna collaborated with everyone from Mikky Ekko to Eminem. But it was probably her raunchy video for Pour It Up, which became unlisted 30 mintues after it was uploaded onto YouTube, that will stay in everyone's minds.
Number 6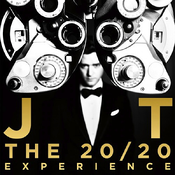 There's only one JT! No not John Terry – Justin Timberlake of course! And as we reach the end of this blog post and our countdown from ten to six of the most memorable music moments, we salute Mr Timberlake for releasing not only one album but two! The 20/20 Experience was released in March and went straight to number one.
Performances at the Grammy's and MTV Music Awards also occurred, as well as various collaborations with big music stars including BFF Jay-Z. His second album of the year, The 20/20 Experience – 2 of 2,was released in September, achieving the same success as the first. The year ended with Timberlake being named as a producer and writer on Beyoncé's surprise album release, Beyoncé. And with the anticipation of JT's world tour coming to the UK in 2014 – we can't wait to get a glimpse of Timberlake in action!
So there we have it, ten to six in the top ten of music's most memorable moments. Next time we'll take a look at the top five! Who could be in there? You'll just have to come back and find out!
Links