Earlier this month Amsterdam's Ziggo Dome played host to 2013's MTV Europe Music Awards: a perfect night for celebrity news and gossip. The night saw some of the biggest musical artists perform their current hits and pick up a whole host of awards. From Eminem to Katy Perry, One Direction to Beyonce, all of the biggest stars were covered. Let's take a look at how the night unfolded: the winners, the losers, the performances and those moments that left us a little shocked…
Katy Perry – Best Female
The first half saw performances from pop-minx Miley Cyrus (more about that later…) and the cheeky Robin Thicke. But it was Katy Perry's performance of new single 'Unconditional' – the second to be taken from her new album Prism that really wowed. Suspended from the ceiling in colourful ribbon-esque threads, Perry broke free from her ties (literally) whist belting out her powerful ballad to reveal a skin-tight mirrored cat suit that created fantastic effects across the venue, thanks to the use of lasers. Hailed as one of the evening's most powerful performances it definitely highlighted that, despite Ms Perry's recent stressful divorce, she has come back with a bang!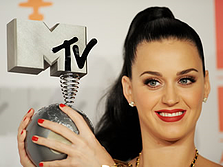 The awards also flowed during the first half with One Direction, Justin Bieber and Beyoncé collecting awards for Best Pop, Best Male and Best Live Act, respectively. Although none of the three acts could be there in person they each recorded a message of thanks to MTV and their fans for their endless support. Katy Perry strutted away with Best Female – another sign that this pop diva is here to stay – and Green Day took home the Best Rock award.
Eminem – The Global Icon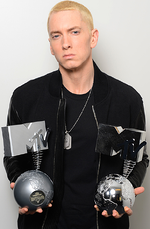 But it was during the second half that memories were made. The big winner of the evening was Eminem – the artist who has won the most EMAs ever! After performing two of his new tracks – 'Berzerk' and 'Rap God' – the Anchorman himself Ron Burgundy presented the rapper with the prestigious Global Icon award. And if that wasn't enough for the man who's just made his comeback, Eminem also won the award for Best Hip Hop! It wasn't just music that was celebrated, our very own Harry Styles from One Direction won a gong for Best Look.
Not every artist went home with an award though and there were some shocks on the night! Justin Timberlake was the most nominated artist, with five nominations including Best Male, Best Live and Best Video, but walked away empty handed. So did Taylor Swift, who was up for Best Female, Best Pop and Best Live – it just wasn't their year!
Miley Cyrus – Best Video
The last word should definitely go to the pop princess that everyone is talking about – Miley Cyrus! She opened the show with her smash-hit song 'We Can't Stop', which saw her arrive on stage in a spaceship, dressed in a silver space suit. A raw performance of latest hit 'Wrecking Ball' followed. Set against a screen backdrop of the singer crying, it reminded the audience that although controversial in character, she can sing! But it was her acceptance speech for Best Video of 'Wrecking Ball' that the 2013 MTV EMA's will be remembered for.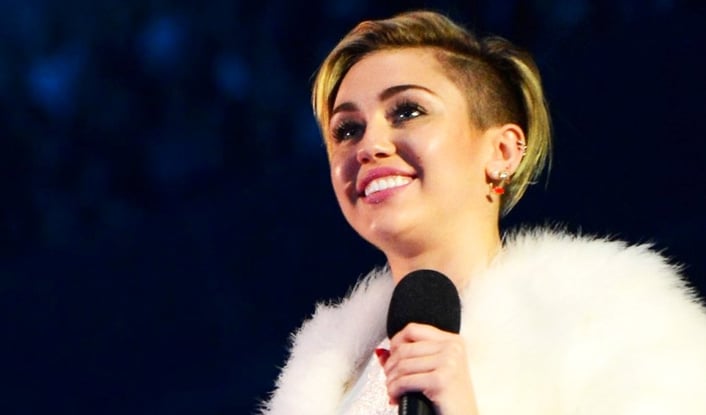 Reaching into her bag Cyrus pulled out a suspicious looking cigarette, lighting it before a shocked audience! Since the awards, Miley has claimed that she did not look to cause offence to anyone or break any laws (as smoking cannabis in Amsterdam is legal). She saw it more as having fun knowing 'her fans in Amsterdam would love it.' Tut-tut Miley that is not the way to impress people – you should take a leaf out of Katy Perry's book and be cheeky and sassy without causing offence!
Links
For a list of all the 2013 MTV EMA winners head here

For all the latest celebrity news and gossip follow @FlameTreePop here

Fan of Katy Perry? Head to her official website here
Flame Tree Pop Titles
Interested in some of the MTV EMA winners? Well, we publish a wide range of pop and rock books, many of them available online as amazing illustrated digital books (perfect for the iPad!). Here's a short list of some of these books, with links to where you can buy them:
Thank you!