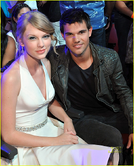 Taylor Swift Boyfriends: Number One. First up on my ever increasing list of Taylor Swift's boyfriends is Twilight star and Hollywood hunk Taylor Lautner (that must have been confusing at family gatherings!)
The Get Together
The pair, or Taylor Squared as they were fondly known, met on the set of hit-movie Valentine's Day in 2009 when they played an on-screen couple in the throes of first love. However their off-screen romance didn't run so smoothly, and the couple called it a day in early 2010. Let's look at why it didn't work out and see which song Jacob, I mean Taylor, inspired.
The Break Up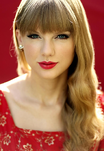 All good things have to come to an end, even those with matching first names, and that they did in early 2010. The couple, who dated for less than a year, cited conflicting work schedules as the reason for their split. But during their
relationship it became obvious that guy Taylor was way more into girl Taylor, with guy Taylor always wanting to be wherever girl Taylor was (gosh this same name marlarky is confusing!). The couple realised that maintaining a relationship is just too difficult when you're both hot property, so they decided to be just good old friends.
The Song
It is rumoured that Taylor's hit song 'Back to December' is about her relationship with Taylor Lautner. The lyrics show feelings of regret over how the relationship ended and the guilt she feels over Lautner having more intense feelings for her than she did for him. The song even ends with Swift asking for forgiveness from Lautner, hinting at a possible reunion for the pair – but no such reunion has ever occurred.
"Your guard is up and I know why. Because the last time you saw me is still burned in the back of your mind...you gave me roses and I left them there to die. So this is me swallowing my pride, standing in front of you saying I'm sorry for that night. And I go back to December all the time. You gave me all your love and all I gave you was goodbye."
Lyrics from 'Back to December' by Taylor Swift – reportedly about her relationship with Taylor Lautner
The Verdict
As much as I wanted Taylor Squared to stay together – because having the same name as your beloved is just too cute – it wasn't to be. It's great that the pair are rumoured to still be friends, and I think 'Back to December' is one of the sweetest apology songs I've ever heard.
But what do you think? Should Lautner forgive Swift and get back together or is being friends just fine? Let us know what you think!
Links
Find out all of Taylor Swift's news right here

Watch Taylor Swift's 'Back to December' video here

Follow @FlameTreePop on Twitter and catch up on all the latest celebrity gossip here