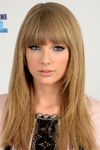 2013 has definitely been the year that Taylor Swift crossed over from country star to international pop princess. With three best-selling albums, Taylor Swift, Fearless and Speak Now, already under her belt, her fourth, Red, was released at the end of 2012 ready to see in the new year.
The Lady in Red
To date Red has gone on to sell six million copies worldwide. With hits such as 'We Are Never Ever Getting Back Together', 'I Knew You Were Trouble' and '22' it seems Taylor has a never-ending supply of catchy lyrics and memorable melodies! But where oh where does Miss Swift get inspiration for her lyrics? Her past love interests of course!
MTV Video Music Awards Diss
Wasn't it totally awkward when she collected her MTV Video Music Award for Best Female Video for her song 'I Knew You Were Trouble'? She graciously thanked fans at the awards ceremony in August, before thanking 'the person who inspired this song, who knows exactly who he is…' TV cameras then showed ex-boyfriend Harry Styles smiling sheepishly in the audience!
With press speculation rife as to who 'IKYWT' is actually about it made me think it would be kinda cool to do a series of blog posts showing you Taylor's boyfriends and which songs her exes have inspired!


Tay Tay's Beaus
Here are just some of the boyfriend's I will be looking at:
Brandon Borello

Sam Armstrong

Joe Jonas

Taylor Lautner

Jake Gyllenhall

John Mayer

Harry Styles
Next Time
In my next blog post I'm going to look at Taylor's relationship with Twilight star and all-round hunk Taylor Lautner. I'll be sussing out when they were together, why they broke up and which songs Mr Lautner inspired Miss Swift to write!
Links
Catch up with all of Taylor Swift's news and gossip here

Check out the official video for 'I Knew You Were Trouble' here

Want to know more about Taylor Swift, check out our beautiful illustrated ebook here