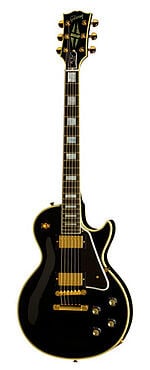 The Gibson headquarters can be found in Nashville inside the the building founded in 1974 specifically for the production of Les Paul guitars. It seems appropriate, as now Gibson's iconic guitar is one of the all time most recognisable instruments in music. Founded in 1902, it was the Gibson Les Paul that really put the company on the map. First sold in 1952 the axe was designed by Ted McCarthy and endorsed by Les Paul, his only suggestion for the design being the gold finish on the top.
What has really helped this particular model endure though, is the string of high-profile musicians that have used it in their performances. Though often in possession of a catalogue of guitars, you'll be hard pressed to find a world-class guitarist that hasn't spent some time with this remarkable creation.
Steve Hackett
The Genesis guitarist was vital in shaping the band's music with his incredible technical skill. A master of tone, Hackett has inspired legions of guitarists during his time who adore his ability to play across a range of disciplines. A self-taught musician, Hackett left school at 16 before being approached by Genesis in 1970. A key ingredient to the band's most successful albums, Genesis career highlights include his amazing work on 'Dancing with the Moonlit Knight' and a ferocious solo on 'Firth of Fifth'.
After Peter Gabriel left Genesis, Hackett remained in the band but used the time to also record a solo album. After this record and another with Genesis, Hackett recorded a second solo project that deliberately challenged him as a musician, featuring a diverse range of styles and evolving the progressive work he had done with the band.
Throughout his career, Hackett has pushed the envelope, experimenting in styles, technique and more. A hugely talented artist, he has been stated as saying that his favourite guitar is a 1957 Gibson Les Paul Goldtop.
Slash
The man beneath the top hat, Saul 'Slash' Hudson was born in the Hampstead area of London. By the age of 11 he recalls hearing the rock anthems of Aerosmith, and it was then that he knew what his life's calling was.
Slash would practice for hours on end, attempting (and often succeeding) to emulate the licks of his heroes; stars such as Joe Perry, Eric Clapton and Angus Young. As he continued to play through several outfits with friends and mutual acquaintances, Slash eventually became part of the now legendary band Guns N' Roses. After releasing their debut in 1987 it became that Slash was a huge talent, his guitar work being instrumental in what has become one of the biggest rock'n'roll albums in history.
After GNR became established as one of the premier rock acts in the world, Slash developed into something of a guitar playing anti-hero. A role model for aspiring guitarists uninterested in the fretboard flash of players like Steve Vai or Yngwie Malmsteen. Slash would often be seen playing with his low-slung Gibson Les Paul, helping resurrect the then stalling company to it's prior levels of glory.
Al di Meola
Born in 1954, Al Di Meola rose to the top tier of contemporary jazz guitarists through his work with Chick Corea's Return To Forever in the Seventies. In addition to a prolific solo career, he has collaborated on projects with bassist Stanley Clarke, keyboardist Jan Hammer, violinist Jean-Luc Ponty and guitarists John McLaughlin and Paco de Lucía.
After growing up in New Jersey, Di Meola studied at Boston's Berklee College of Music before joining the band Return To Forever. It was in this outfit that he was first noted for his technical mastery and fast, complex guitar solos and compositions. He solidified his reputation with solo projects - simultaneously branching out into other musical genres, especially keen to explore Mediterranean cultures and acoustic sounds. Di Meola continued to explore Latin motifs on albums like Casino and Splendido Hotel.
However, like any talented musician, Di Meola kept on pushing himself. By 1983 he was exploring the electronic side of jazz, using guitar/synthesizers on albums such as Soaring Through A Dream. After these successful experiments, Di Meola found himself comfortable blending the style he enjoyed playing most. Mixing the latin music he played before incorporating his later interest in electronic effects.
Though lately Di Meola has played most acoustic guitar due to his tinnitus, the talented guitarist can still turn his hand to a range of styles: be it a gentle latin rhythm, or a more edgy, electronic tune spun out via his Gibson Les Paul.
If you love Gibson Les Paul's, you'll love our foiled notebook. Click here to check it out.
This article was based off of text from our comprehensive title 'The Illustrated Encyclopedia of Rock Heroes' (ISBN: 9781847862181). Read more about amazing musicians from classic rock bands by clicking here.
Links