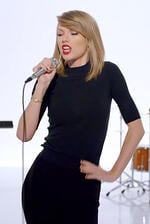 Any Swiftie worth his or her salt will be aware that the beautiful country come pop-star has just released her new single, Shake It Off. This is the first track from her upcoming album 1989 and we're very excited to hear more.
However, what catches the eye most about Taylor's new single is the stylish music video that accompanies it. It in, Taylor appears to try and infiltrate the ranks of various high-school cliques such as a street dance troupe, a ballet club and the infamous ranks of the cheerleaders. The motto of the track is about shaking off negative accusations, and in this video the message seems to be that whoever you are, do not be affected by the negativity of those around you.
One, Two, and Step!
The video begins with Taylor limbering up on a barre alongside other ballet dancers and though she looks every bit the part, Taylor eventually stumbles and jumps ungracefully through the air. We see her also do this in her hip-hop gang and with the cheerleaders. It's refreshing to see such modesty in a music video, especially as we're all sure she could actually perform those dance moves very well if she tried to!
Instead, Taylor's saying that she is what she is, which as it turns out, isn't a variety of things. She's one thing only: herself. Furthermore, she's not sorry for this. Whether doing the robot or having a weird 'finger-dance off', Taylor adorably stumbles through these various groups and their styles of dance. We can all relate to Taylor because no matter how much we try and fit in, you must always fall back on what you're most comfortable doing.

Eventually this is what Taylor does, belting out her catchy chorus again by the end of the song. She looks amazing in her slim black clothes, cropped hair and bright lipstick. It's nice to see her do this whilst dancing alongside a mixture of people, all shapes and sizes, races and gender. Taylor's always been about inclusivity and expression and that's more apparent than ever with this new track.
We can't wait to hear more.
1989 minus 2014 equals…
24! Taylor is 24! So it seems for her latest album name, Taylor's done something of an 'Adele' on us - relying on her age to make a point. I for one, can certainly see why. At less than a quarter of a decade old, Taylor is adored as one of the most beautiful, talented and humble pop performers on the planet.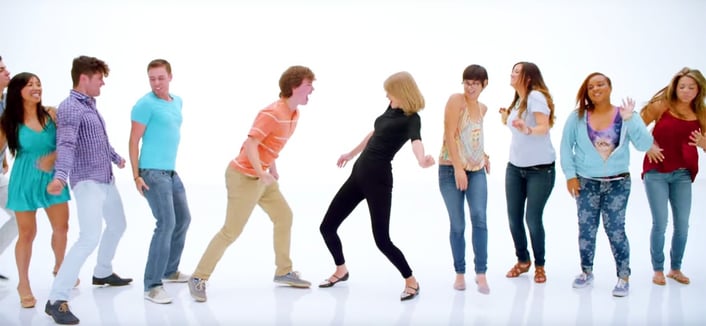 Her title leaves plenty of room for speculation though: what will be next? She's slowly evolved from a country music starlet to a pop music icon, all the while retaining her huge fan-base (Shake It Off has already been viewed on Youtube over 42 million times!). Is it more loud, confident pop music? Will there be tender songs about her latest relationships? Rap?!
Perhaps there'll be a mixture of all things, because if we've learned anything from the blonde bombshell, she's the master of reinvention, and we cannot wait to see what she will come up with next.
We're huge Taylor Swift fans here at Flame Tree, which is why we've made an awesome book about her life and career for far. Check out Taylor Swift: From the Heart (ISBN: 9780857757968) on amazon here.
Links: