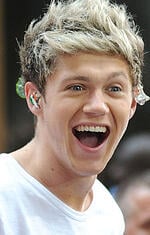 The amazing One Direction are currently working on their new album, in the very exciting stages of choosing a title and artwork, as well as beginning to think about music video ideas. While we're waiting to hear what must be one of the most anticipated albums of the year, nothing could be better than to tell you about my favourite member of One Direction. Everybody has their favourite band member, even if they deny it. Whether yours is the hauntingly handsome Zayn or the more refined Liam, you must have one member that sticks out for you as the best. For me it is Niall. And only partially because of his amazing Irish accent.
Niall Before One Direction
Niall was born on the 13th September 1993 (yes, he is now 21) in Mullingar, Ireland to his parents Bobby and Maura Gallagher. He has an older brother called Greg, who he now fights with a lot less than he used to! In their younger days he once hit his brother with a table tennis bat, giving him a massive cut on his head! The family have always described themselves as just normal people. The boys moved around a lot when they were young as their parents divorced and they would alternate between their Mum and Dad, until eventually deciding on staying with their Dad.
Niall went to Coláiste Mhuire (Mary's College), an all-boys school in Ireland. He was interested in singing from then onwards after he joined the school's choir, often making his family proud in productions at Christmas. He also played the guitar from a very young age, inspired by rock music. He was, and still is, a great fan of Bon Jovi, The Eagles and The Script. But he also has a passion for swing music and cites his influences as being Frank Sinatra and Dean Martin. He couldn't get enough of all of these great performers. Before taking the plunge and auditioning for the X Factor he would perform whenever he could in his hometown. He was once a support act for Lloyd Daniels in Dublin!
Inflatable Banana Epic Fail
Today Niall's the member of the band who sits back and smiles as the other members start arguing with each other. As a notorious chatterbox you might be forgiven for thinking he is the outgoing type, unfazed by anything. But he is actually the most sensitive member of the band, and has admitted to crying when watching The Notebook and even Finding Nemo!
Recently he has been in Canada and the US performing in their World Stadium Tour. In a recent live performance in Massachusetts Niall found himself a little embarrassed in what he described as an 'Inflatable banana epic fail'! He was waving to a bunch of fans when he pulled an inflatable banana out from the crowd and started riding it like a horse, with his legs either side! Unfortunately the banana was a little too big for him and he ended up falling over, much to the amusement of the other band members.
There's never a dull moment for One Direction! Niall has taken to the limelight like a fish to water. He reports that sometimes he feels a little overwhelmed with the success that the boys have been having, and sometimes feels a little homesick for the quiet Irish town that he grew up in. But he loves their fans so much and he knows he is having the time of his life.
Things You Probably Didn't Know About Niall
He has an irrational fear of pigeons, after one flew through his bathroom window and scared him!
You might know that Niall is dating Victoria's Secret model Barbara Palvin again. But did you know that he plans to propose to her on Valentine's Day in the same way that his Dad proposed to his Mum? So sweet!
He didn't manage to make it to his own prom because he left before his exams. Since then he has been asked by fans to be their date to their proms!
Niall passed his driving test the first time he took it, so celebrated by immediately going out and buying a Land Rover.
His chosen relaxation method is perhaps not what you would expect. He loves to play golf with his family and friends and has an incredible swing!
We're big fans of One Direction here at Flame Tree and are thrilled to show you our illustrated book One Direction: One & Only (ISBN: 9780857755971) an unofficial biography of the greatest boy band of our time. You can find it on Amazon here.
Links
Bottom image taken from the official One Direction Music