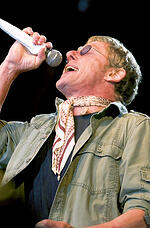 Woohoo! The Who have released their first new track in eight years! 'Be Lucky' is a classic Who rocker, which references AC/DC and Daft Punk and oozes a positive, go-getting mentality wholly appropriate to its placement on upcoming two-cd compilation The Who Hits 50. Not many bands make it to 50 years – sticking together and continuing to flourish in the music industry, which is why their 50th anniversary tour this winter is so incredible! This is their last long tour – which is not to say that they'll stop performing all together; it's just that they've gotten older, as everyone does, so they can't handle the stress and enormous amount of effort that it takes to set out on a long tour. Roger Daltrey has been a part of this ground-breaking band since the very beginning - he is even credited with being the group's founding member!
The Start of Something Good
Born in Shepherd's Bush in 1944, Daltrey's upbringing was fairly normal. In 1961, at Acton County School, however, he not only assembled the group that would become The Who, but he also created their guitars. He worked in a sheet metal factory when he was not in school, so the materials were available, and he seized the opportunity. His energy and ambition has sustained the group through difficult times, and he is most likely the force that has kept the band together for 50 years.
Rock Icon
Daltrey lost his status as the group's leader when the other surviving member, Pete Townsend, became the songwriter, but then he became the one who voiced Pete's lyrics and ideas. He still functioned as the band's frontman. He also contributed to the band's showmanship by twirling his microphone around his head, in the same spirit as Townsend smashing his guitar and Keith Moon destroying his drum set.
With his long, curly blonde hair, bare chest and fringed jackets, he soon became a sex icon, and was recruited to act in movies and on the telly. He was such a good actor, in fact, that he was nominated for a Golden Globe in 1975. While he was acting, though, his music still came first, and he not only continued being in The Who, he started a solo career, as well.
Solo and Together
Daltrey released his first, self-titled, solo album in 1973, following it with Ride A Rock Horse (1975), One Of The Boys (1977), the soundtrack to McVicar (1980) and After The Fire (1985). He has also appeared on stage alone - his 1994 solo concert at Carnegie Hall in New York City was the fastest selling event in the venue's history.
The Who, meanwhile, flourished, with the release of Quadrophenia (1973), The Who by Numbers (1975), Who Are You (1978), Face Dances (1981) and It's Hard (1982). Shortly after the release of Who Are You, though, drummer Keith Moon died, throwing the fate of the band into question, but Daltrey kept them together. After It's Hard, Townshend declared that the band was over, but they still performed together on occasion throughout the years.
The Who's last release, Endless Wire (2006), was a collaboration between Townshend and Daltrey, and it seems to have re-ignited both of their passions for working together in The Who.
As of Late
Daltrey has been awarded a multitude of awards for not only being in The Who, but for his charity work and solo work as well. Since 2000, he has been a patron of the Teenage Cancer Trust (in fact, the band have donated their royalties from the new song to Teen Cancer America, which they founded) and, in 2003, he was given a Humanitarian Award from Time Magazine. In 2005, he was rewarded with a CBE by the Queen of England for his services to good causes and music. He was inducted into the UK and US Music Halls of Fame, and he has been awarded a James Joyce award.
Now, he splits his time between The Who, his solo career and his charity work. Daltrey's motivation to keep The Who intact is admirable and deserves an award in its own right.
Essential Recordings
1965 The Who: My Generation
1969 The Who: Tommy
1971 The Who: Who's Next
1975 solo: Ride a Rock Horse
If you'd like to know more about The Who and their rock music, check out our awesome book The Who Revealed (ISBN 9781847868831)!
Links
This post was written by intern Taylor Steinberg.