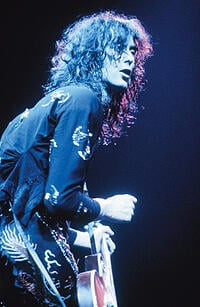 On October 27th, a remastering of Led Zeppelin IV and Houses of the Holy, two of the most popular, chart-topping rock 'n' roll albums ever created, will be released along with companion albums of never before released rough tracks and other related music. "The material on the companion discs presents a portal to the time of the recording of Led Zeppelin," says Jimmy Page, lead guitarist and producer of this project. "It is a selection of work in progress with rough mixes, backing tracks, alternate versions, and new material recorded at the time." Led Zeppelin has been a classic, hugely popular band since its inception, and with all of the latest technological advances, why wouldn't Jimmy Page want to improve on something that was already so great? The first three albums (Led Zeppelin I, II, and III) were released in June, and the rest of the albums will be released later, but it is not everyday that a feat like this happens. The fact that Jimmy Page himself is acting as the main force behind the project makes it all the more incredible.
A Grand History
The last of the triumvirate of guitar legends who played with the Yardbirds, Jimmy Page became an icon of rock guitarists in the 1970s with Led Zeppelin. Elements of his playing style have been copied to the point of cliche in the years since Led Zeppelin dominated the rock world, but as the originator, Page developed the heavy-metal blueprint for all the guitarists who followed. Jimmy Page was born in 1944 and grew up in Epsom, south of London. His first electric guitar was a 1949 Gibson Les Paul, the guitar with which he became associated throughout his career. After leaving school at 16, he briefly played with Neil Christian & the Crusaders before becoming an in-demand session musician. Between 1962 and 1968, Page played on hundreds of recording sessions for a variety of bands, including the Rolling Stones, the Who, the Kinks, Donovan, Them, Cliff Richard and Burt Bacharach. He was often hired as an insurance policy in case the band's guitarist couldn't cut it in the studio. He played on Jet Harris & Tony Meeham's "Diamonds", a No. 1 in 1962, and Joe Cocker's "With A Little Help From My Friends", a No. 1 in 1968.
Disappointment to Major Success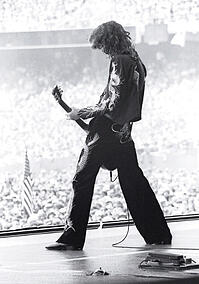 The joy of sessions was already fading by 1966 when Page joined the Yardbirds, for whom Jeff Beck was lead guitarist. A short but exciting experiment with Beck and Page as twin lead guitarists ended when Beck abruptly left the band. Page soon found himself carrying an increasingly disillusioned band, and after the commercial failure of Little Games (1967), he started planning a new band, encouraged by Yardbirds' road manager Peter Grant. Page, Robert Plant, John Paul Jones and John Bonham came together as the Yardbirds were disintegrating in 1968, and recorded Led Zeppelin I (1969) before manager Peter Grant secured a record contract with Atlantic. The album's raw sound and Page's dynamic range, along with innovative techniques like playing his guitar with a violin bow, made a resounding impact. Led Zeppelin I spent 18 months in the charts in the US and UK. Led Zeppelin II (1969) maintained the same high energy level and topped the charts on both sides of the Atlantic, propelled by Page's signature riff on "Whole Lotta Love." With more time to prepare Led Zeppelin III (1970), the band broadened their scope, adding more folk-influenced acoustic songs and putting more emphasis on the arrangements. This approach paid off spectacularly on Led Zeppelin IV (1971), which featured the bombastic "Black Dog" and "Rock And Roll," the more restrained "Misty Mountain Hop," and "Going To California" and the monumental "Stairway To Heaven," which drew on elements of both. The band's refusal to release singles or appear on TV did not prevent "Stairway To Heaven" from becoming the most-played album track on radio.
What Goes Up Must Come Down
Through the mid-1970s Led Zeppelin swept all before them with Houses Of The Holy (1973), Physical Graffiti (1975), Presence (1976), and an epic live show that was captured in all its rock-god glory on the film and soundtrack album The Song Remains The Same (1976). But in the summer of 1977, the band's career came to an abrupt halt when Plant's son died suddenly during yet another successful American tour. They returned in 1979 with two major British shows at the Knebworth Festival, but the following year, while rehearsing for a US tour,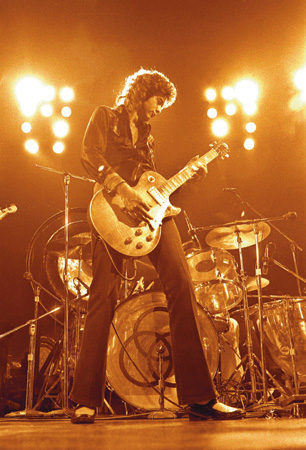 Bonham died after a drinking binge and Led Zeppelin was at an end. During the 1980s, Page occupied himself with the film soundtracks Death Wish II (1982) and Lucifer Rising (1987), a solo album Outrider (1988), the Robert Plant collaboration The Honeydrippers Volume One (1984), and The Firm project with singer Paul Rodgers. In the 1990s, he worked with former Deep Purple singer David Coverdale on Coverdale Page (1993) before reuniting with Plant for No Quarter (1994) and Walking Into Clarksdale (1998). In 2000, he worked with the Black Crowes on Live At The Greek. One-off Led Zeppelin reunions at Live Aid (1985) and Atlantic Records' twenty-fifth anniversary (1988) proved unsatisfactory, but towards the end of 2007, the band reformed with Bonham's son Jason on drums to play a spectacular show at London's O2 Arena to benefit the late Atlantic founder Ahmet Ertegun's charitable trust.
Recently
At the closing ceremonies of the 2008 Olympics, Jimmy Page represented Britain in a performance marking the change in Olympic venue to London in 2012. The same year, he co-produced a documentary film on the history of the electric guitar, entitled It Might Get Loud. Page's limited-edition autobiography was published in September 2010 by Genesis Publications, and in December 2012, along with Robert Plant and John Paul Jones, Page was awarded the Kennedy Center Honors by US President Barack Obama in recognition of Led Zeppelin's contribution to American culture.
Essential Recordings
1969 Led Zeppelin: Led Zeppelin I
1969 Led Zeppelin: Led Zeppelin II
1971 Led Zeppelin: Led Zeppelin IV
1998 with Robert Plant: Walking Into Clarksdale
This blog post is based on an extract from our fab book Rock Guitar Heroes (9781783612239) – it's now available to order from our website here or from Amazon here.
Links
To see Led Zeppelin's website, click here.

To preorder the remastered editions of Led Zeppelin IV and Houses of the Holy, click here.

To read a recent interview of Jimmy Page, click here.
This post was written/compiled by intern Taylor Steinberg.