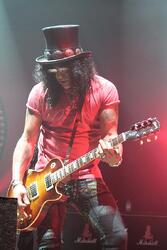 While seemingly not as remarkable or unbelieveable as other rock album releases this year, Slash's new album, World on Fire, is a testament to his perseverance throughout his life and his status as a rock god. Released in September, it was received to wide acclaim, and it shows how even though his projects in the past have fallen apart, his desire to create music carries him though life.
This album also shows how committed he is to following his passions and his dreams: generally, famous rock'n'roll figures aren't the best role models (to put it lightly, sex, drugs and rock'n'roll is not something I would want my child, if I had one, to try to embody), and while Slash does follow this motto, it's to a lesser extent than other rock heroes. Because he has been releasing relatively successful albums recently, not just over 20 years ago, he is showing that perserverance pays off.
Inception
The man beneath the top hat, Saul 'Slash' Hudson (b. 1965) was born in Hampstead, London. When he was 11, his family moved to Los Angeles, California, where at the age of 14, he heard Aerosmith's Rocks for the first time and found his life's calling.
Practising guitar for hours on end, learning the licks of his heroes Joe Perry, Eric Clapton and Angus Young, among others, Slash set about forming his own band to play the famed Sunset Strip. Teaming up with friend and drummer Steven Adler, Slash formed the blues-rock act Road Crew. Soon, the two friends hooked up with singer Axl Rose, guitarist Izzy Stradlin and bassist Duff McKagan to form a new band called Guns N' Roses.
Fame Calls
In 1987, GN'R released their debut, Appetite for Destruction, an album that would go on to become one of the biggest rock'n'roll albums in history. The album would catapult the band (and its excesses) into the realms of Aerosmith and the Rolling Stones. But on an individual level, it would install Slash as the era's premier guitar antihero, a role model for aspiring guitarists uninterested in the fretboard flash of players like Steve Vai or Yngwie Malmsteen.
Slash's meteoric ascension would impact the guitar-gear world as well. With his low-slung Les Paul harking back to the sights and sounds of Led Zeppelin's Jimmy Page and 1970s-era Joe Perry, the once grand but then-stalled Gibson brand was suddenly resurrected to its prior position of esteem.
Turning Tides
Following the demise of GN'R, Slash released two albums with Slash's Snakepit and recorded sessions with dozens of top-name artists, ranging from Michael Jackson to Alice Cooper to the Yardbirds. Then, in 2003, he reunited with former Gunners McKagan and Matt Sorum and recruited guitarist Dave Kushner and singer Scott Weiland to form Velvet Revolver. The band's two releases, Contraband (2004) and Libertad (2007), helped to return Slash to the world's biggest stages and positioned him as one of the enduring guitar heros of his generation. The band took a hiatus in 2012 to concentrate on solo projects. Following Slash's eponymous 2010 debut, he teamed up with Mike Kennedy and the Conspirators to record Apocalyptic Love (2012), with the follow up album released in 2014.
Essential Recordings
1987 Guns N' Roses: Appetite for Destruction
1995 Slash's Snakepit: It's Five O'Clock Somewhere
2004 Velvet Revolver: Contraband
2010 Solo: Slash
This blog post and bottom image is based on an extract from our fab upcoming book Rock Guitar Heroes (9781783612239) – pre-order it from Amazon here.
Links
To listen to World on Fire, click here.

To learn five things you wouldn't have known about Slash, click here.

If you'd like to purchase a GN'R t-shirt, click here.
This post was compiled/written by intern Taylor Steinberg.