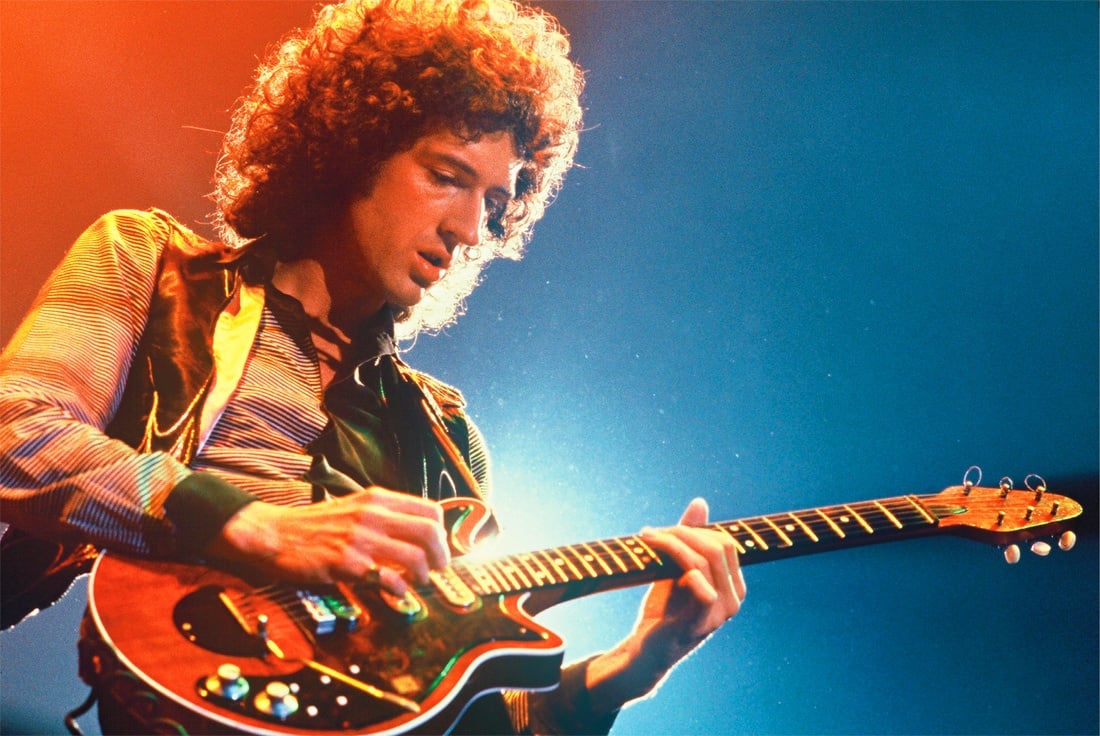 The foreword writer of our music book, Rock Guitar Heroes, Brian May is among the most recognizable guitar players in the world. His distinctive tones, created by the home-made guitar he built when he was 16 and has used throughout his career, are integral to the sound of Queen. Many of the sounds he produced were so innovative that the first seven Queen albums pointedly stated that no synthesizers had been used on their records.
Brian May was born in 1947 and grew up in Hampton, South West London. He started playing guitar at the age of seven. A talented child who did well at school, he made his own guitar with help from his father when he was unable to afford the Fender Stratocaster he wanted. The Red Special (also known as the Fireplace Guitar, because the mahogany neck was carved from a 200-year-old fireplace) took 18 months to build at a cost of £18, and he played it with a sixpence rather than a plectrum.
During his university years May was part of several music acts that didn't really work out. However, in 1969 a flatmate of his friend Tim Staffels, approached May with the prospect of forming a new act. This flatmate was Freddy Mercury. It wasn't until 1971 that they were joined by bassist John Deacon, thus completing the Queen lineup. Their eponymous debut album reached no. 5 in the charts and also featured their first May-composed single, 'Keep Yourself Alive'.
Over the next couple of years Queen started to really focus on their own brand of stylish rock. A succession of popular hits followed, including the iconic 'Bohemian Rhapsody' which features May's incredible guitar solo.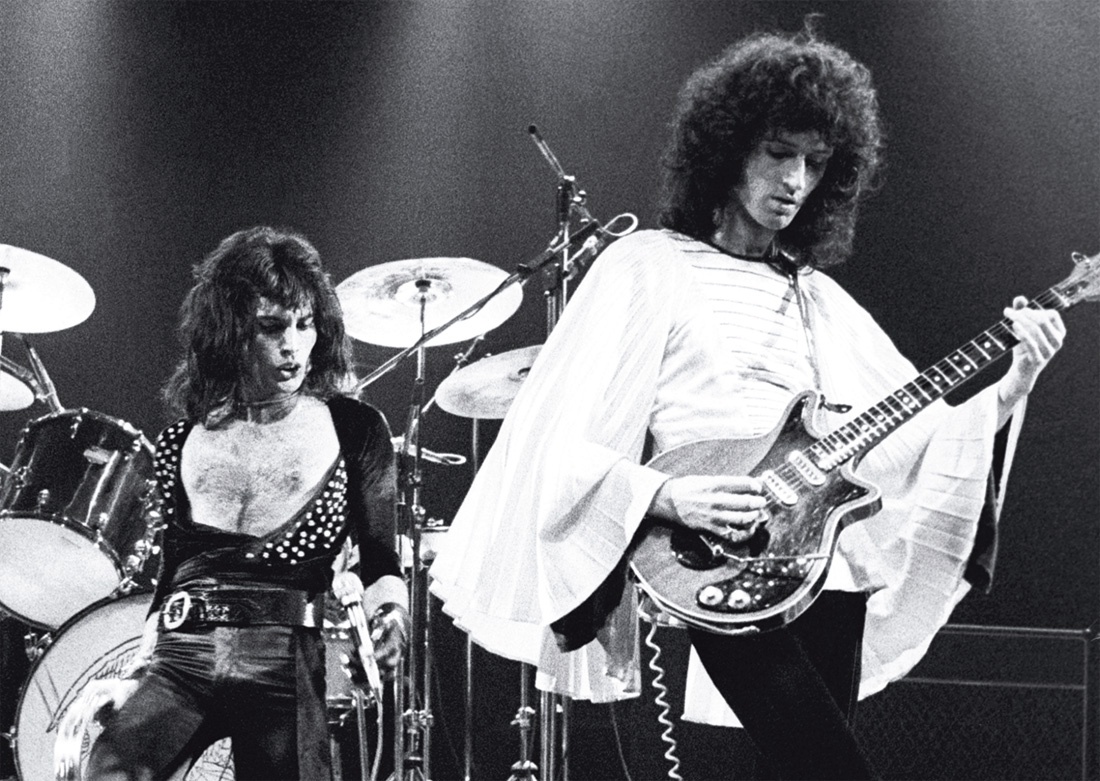 'So what is it that make a guitarist into a hero? It has to be simply the passion he elicits in others.' Brian May
Through the 80's May's guitar parts became more succinct, however he continued to pen tracks and worked on some side-projects too, with the likes of Eddie Van Halen. In 1985 Queens show-stopping performance for Live Aid was aided by May writing and arranging the orchestra parts for 'Who Wants to Live Forever'. On unstoppable form, May was largely responsible for big tracks such as 'Scandal' and 'I Want It All'. In 1991 the band continued recording until Freddie Mercury's death towards the end of the year.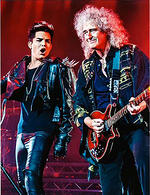 In 1992 May completed his first solo album, Back To the Light, and embarked on a world tour. Following this he worked with Deacon and Taylor, finishing tracks for which Mercury had already recorded the vocals. His second solo album, Another World was released in 1998, followed by another world tour.
'I have always felt that the supreme joy of the guitar is that it is a voice, a vehicle for expressing emotion-' Brian May
Fast forward to 2011 and Queen found themselves in possession of a new front man. 'American Idol' runner-up Adam Lambert. May has spoken out in support of Lambert, even saying that he can hit notes Mecury never could. In summer, 2014 their act, Queen + Lambert began their first official US tour.
Image of May and Lambert via BrianMay.com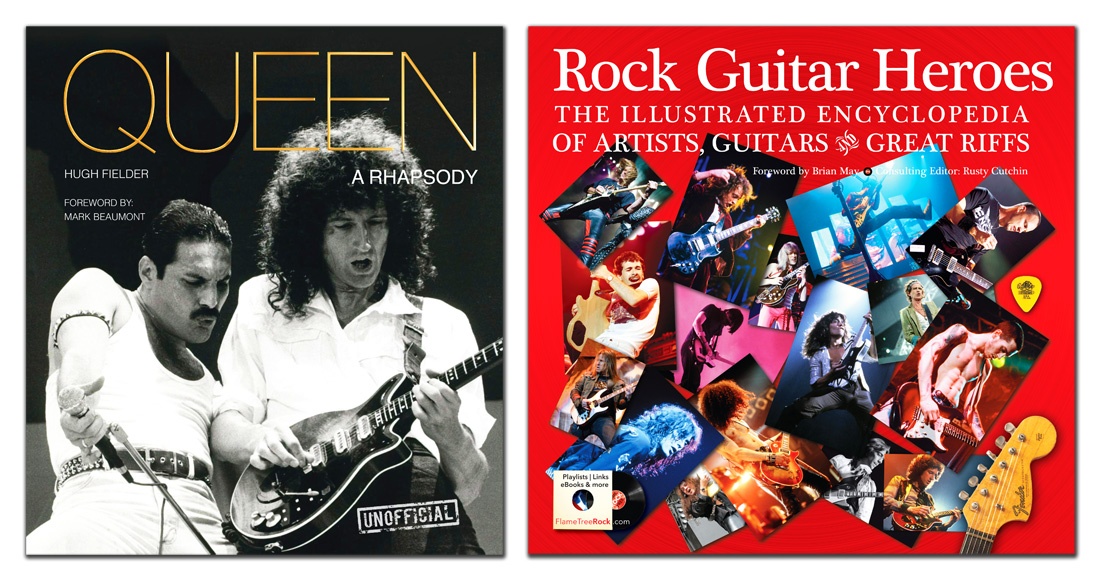 If you're a fan of May's astonishing guitar skills or love a Queen anthem, you'll love some of our music books. Brian may was kind enough to write the forward for out title, Rock Guitar Heroes. If you want to read what he has to say and learn more about tonnes of classic rock bands and guitarists, have a look at our book here. Alternatively we also have a book on Queen out now on the iTunes store and available soon in print. Click here for the ebook, or pre-order the print book on Amazon by clicking here.