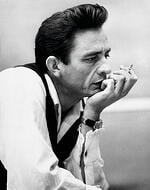 Both understated and complex, Johnny Cash survived a roller-coaster 50-year career and transcended his 1950s country-and-western roots to become a popular music icon continually appealing to new generations. He is remembered as a groundbreaking figure in a number of musical genres, from country through to gospel to rock'n'roll.
Hello, I'm Johnny Cash
Johnny Cash had a stereotypical 'country' background: the poor farmstead, sitting by the fishing hole, pickin' cotton; a heady mix of violence, drunkenness and religion in his home life; unemployment, riding the boxcars and pickin' the guitar on the front porch.
Country was where he started, but as Kris Kristofferson said, 'His television show [The Johnny Cash Show which aired on ABC from 1969 to 1971] was really important … he brought in a lot of people who weren't normally in Nashville, like Joni Mitchell, Linda Ronstadt, James Taylor, Ray Charles...'. Cash's style of country reached out and brought everything else into it.
In fact, Cash's upbringing beside railway tracks and cotton fields inspired many of his songs. His first song, 'Hey, Porter' (1955) as well as 'Blue Train' (1962) and 'Riding On The Cotton Belt' from album The Last Gunfighter Ballad (1977), hark back to the days of his daddy 'riding the rods'. In 1969, he even wrote a song called 'I've Got A Thing About Trains'.
Gospel was there on his front porch, and as a committed Christian since he was a boy, Cash longed to make a religious album. Sam Phillips of Sun Records, the first record label to sign him, was reluctant, but Cash got his way later at Columbia when he was able to release an album of hymns with a country feel.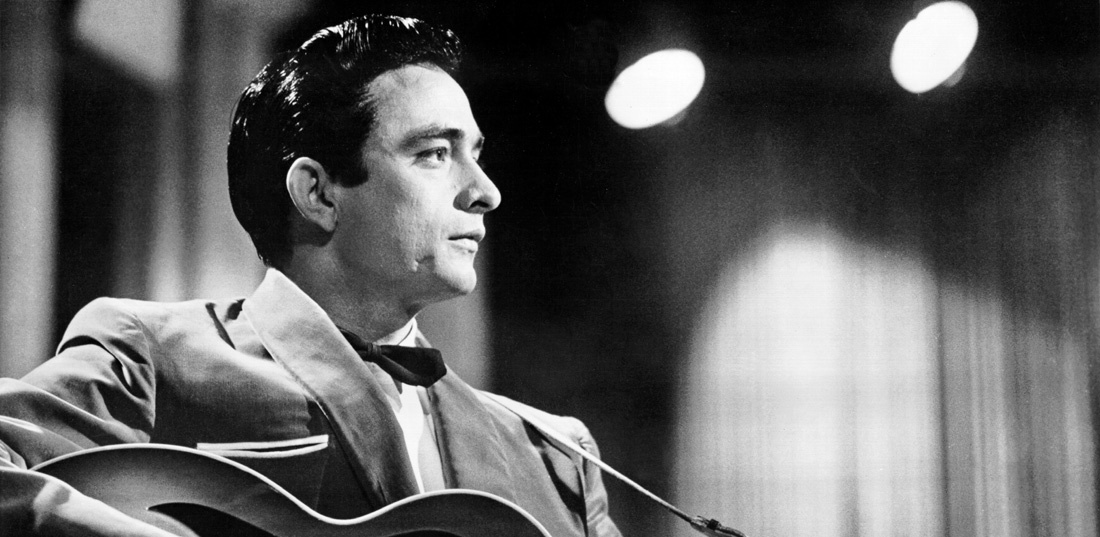 The Man In Black Casts A Long Shadow
Cash has been acknowledged as an influence by many later singers, including Bob Dylan, Bono and Nick Cave. When they met at the 1964 Newport Folk Festival, Cash gave Dylan his guitar as a gesture of respect, and in 1969, the pair recorded more than a dozen duets together.
Many artists have covered Cash's songs: from Elvis Costello with 'Cry, Cry, Cry', Ryan Adams' 'I Still Miss Someone' to Bruce Springsteen's 'Give My Love To Rose'. His songs are as enduring as his style.
Cry, Cry, Cry, and a Broken Marriage
Cash's early single on Sun Records, 'Cry, Cry, Cry', cracked the country chart, but it was the 1956 chart-topping single 'I Walk The Line' that crossed over to the pop Top 20 and made the world stand up and listen. This rockabilly-style country song sold over two million copies and put the Man in Black on the musical map. Much later, it was the title of an Oscar-winning Hollywood biopic starring Joaquin Phoenix in the title role.
His marriage to his first wife, Vivian, fell victim to his rock'n'roll lifestyle of touring and drug-taking (Cash loved touring, and in later years used a special tour bus he called 'Unit One' when touring in North America). His second wife, June Carter, who he married in 1968, proved to be a stabilizing influence on his addictive personality and saved him from self-destruction on many occasions. They toured and recorded together, and would die within months of each other in 2003. Although Cash fought his demons daily for much of his life, he produced music right up until his death.
The Man Comes Around To The New Age
In his later years, Cash worked with cutting-edge talents such as producer Rick Rubin, songwriter Trent Reznor of Nine Inch Nails and video director Anton Corbijn, a close collaborator with U2. Dragging himself up from a personal and musical decline in the 1980s, he successfully reinvented himself to capture a new audience.
The Man Comes Around, released in 2002, was Cash's final complete studio album, and proved to be a fitting culmination to a long musical career. It reached No. 4 in the country listings and impacted the pop charts at the same time. When Cash died shortly after its release, tributes poured in from such diverse luminaries as Al Gore, Bob Dylan, Bono and Emmylou Harris. Glen Campbell said, 'I don't see any stars on the horizon that are like Johnny Cash. He was so unique. I miss him.'

This article features only a a few snippets from our new book Johnny Cash. With 128 pages of incredible biographic information, alongside stunning photography, this title is a must-own for any Johnny Cash fan. The book is available right now on the iBook store, to download it to your iPad or iPhone, just click here. Or if you'd prefer the print edition, you can pre-order it on Amazon by clicking here.