Once again all the biggest news stories do not stand a chance against Taylor Swift. As many of you already know, the latest buzz surrounding Swift is in regard to her Tumblr post, "To Apple, Love Taylor", where she expressed her extreme disappointment with Apple's current decision not to pay musicians during Apple Music's three-month launch period. Tremendous confidence and bravery was behind Taylor Swift's words, as Apple, being one of the wealthiest companies in corporate history, is no small company to pick a fight against.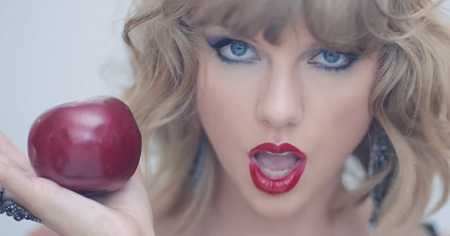 With Taylor's extremely popular album 1989 released last year, it is an absolute must for all music providers to have Swift's album available. Spotify, unfortunately, has had to live without this album as well as the rest of her works since her pull-out last year. She was discontent with Spotify streaming her music and others' music for free. She resiliently believed that artists should value their work and make sure that people are paying an adequate amount for it. Resembling this situation with Spotify, Apple's three-month launch period ignited the same concerns. Even with Apple as big and as successful as they are, they would not stand a chance against the highly influential artist holding back an award-winning, million-copy sell-out album. She stated in her post that her protest is "about the new artist or band that has released their first single and will not be paid for its success". Thankfully, being the exceedingly influential person she is, Taylor received a quick response from Apple. Apple, not wanting to create 'bad blood' with all artists influenced by Taylor, reversed its statements 'swiftly'. Her actions, although seemingly small, have widely regarded as a huge victory.
But this is not the only reason to say confidently that she is a remarkable young lady, and that she is more selfless, thoughtful, and charming than any other person with regard to fame. From her early days as a high school girl being discovered by Tim McGraw, to this year being rated by TIME magazine as one of the most influential people, she has created an enormous empire for people to use as an inspiration. To state a few of the remarkable things she has done, the list has to begin with the most heart-warming of her actions: the generosity and appreciation she gives to her fans. During the release of her 1989 album she held "Secret Sessions" or parties with cookies and dancing at her house for selected swifities. Dreams of Taylor were coming true. She later sent Christmas care packages to her biggest fans as well as donated $1989 to fan Rebekah Bortnicker to help her pay off her student loans. Another remarkable thing she has done is, of course, putting in the hard work to receive seven Grammies as well as to be the youngest person in history to be honoured the Grammy's Album of the Year. Her most remarkable thing she has done has nothing to do with physically meeting fans, giving money, or winning awards. She is inspiring young adults to stay strong, true and powerful. Could she become anymore ideal?
Well, yes actually. While in the midst of voicing out against Apple, she was being attacked by OK! Magazine as they tried to turn her congratulatory announcements about another couples' pregnancy into her own pregnancy horror story. Taylor tweeted back self-assuredly shutting down the illogical claims to start rumours against not only her but also all women. Media, tending to describe women with their romantic involvements, isn't going to slip by Taylor's feminism radar, especially now in 2015. Taylor Swift is taking a strong stance to project to society why feminism is so important.
Voicing her opinion to multiple media sources, Taylor Swift speaks out about the misogyny embedded in individuals. Her latest music video "Bad Blood" mirrors the importance and seriousness of her statement. Her video features Victoria's Secret models and other authoritative women in stiletto heels defeating any and all antagonists. She not only speaks words of power and wisdom, she supports them in her actions and her life's work.
Taylor Swift is a jaw-dropping individual as she uses her fame to make the world a better place. However, there's still plenty left to learn about the pop starlet. For more info on Taylor and impressive qualities, you can check out more of her story in our book!

Take a closer look at the title here. Or have a peek on Amazon by clicking here.
This post was written by intern Kaiti Porter.