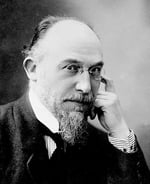 A famously eccentric figure during the Modern era, Erik Satie (1866–1925) was a French composer, pianist and writer. His pieces are at once nostalgic and playful, simplistic and strange, and his own disposition was well-matched to his radical musical style. Sometimes described as 'anti-emotional' and ironic, Satie's work was a response to and escape from German (in particular, Wagnerian and Romantic) models. He is also famous for the unique titles of his works (such as Genuine Limp Preludes (For a Dog)), and his bizarre performance directions (for example, instructions that a section be played 'as dry as a cuckoo'), as well as his humorous miniatures for piano, where bar lines, time signatures and even keys were removed. Having once referred to himself as someone who 'measures sounds', Satie is often identifiable by his strange, unresolved chords; his most well-known works include the 'Gymnopédies'.
A Great Inventor
As well as his extensive experiments in music, Satie was also a letter-writer, reviewer and cartoonist. He was born in Honfleur, though his family moved to Paris when he was four. At six, he suffered the death of his mother, and went to live back in Honfleur with his grandparents, where he took lessons in music from a local organist. His grandmother drowned another six years later, and Satie returned to Paris to live with his father, enabling him to join the Paris Conservatoire at the age of 13. Already his indifference – and even resistance – to stylistic trends of the period was showing through, and, seen as predominantly lazy and insignificant by his teachers, he was finally asked to leave. The unpredictable changes within his compositions reflected his mercurial disposition; he was a man of intense and singular obsessions, such as when he was fervently in love for a time with the artist Suzanne Valadon, proposing to her straight after their first evening together. Various periods of his life involved him setting up his own church and his own magazine – each with himself as the sole member or reader – showing active disinterest in having any followers: as soon as his musical style was imitated by another, his solution would be to leap into a different direction. Satie made his living through improvising and composing piano songs in cabaret bars, taking his inspiration from the ancient modes as well as music-hall, circus and upcoming jazz styles. It is this that drew the attention of the writer and filmmaker Jean Cocteau, who was impressed by Satie's 1903 creation of seven pieces entitled Three Pieces in the Form of a Pear – effectively a musical satire on the value placed on traditional musical forms. Cocteau was eager to write the scenario for a ballet composed by Satie: the result was Parade, which contained elements of ragtime and was performed fittingly in 1917 by Diaghilev's Ballets Russes, with equally apt set design by Picasso. In attempt to augment the ballet's controversial potential, Cocteau added orchestral parts for various objects like a typewriter and a pistol. His 1918 essay 'Le Coq et l'Arlequin' then lauded Satie's rebellious, anti-Wagnerian qualities, as Cocteau praised the value of 'everyday music' that took itself away from the pretensions of opera and concerts. A heavy drinker (especially of absinthe) throughout his life, Satie died in 1925. When friends then visited his apartment – which no one other than Satie had seen for 27 years – they found a curious collection of objects including, most famously, two grand pianos, one placed on top of the other.
Influence Across the Arts
Satie's avant-garde works reacted to the impressive solemnity and grandeur of the German Romantics. As soon as a style became established Satie immediately sought to carve a new path. Perhaps for this reason his music eludes precise definition and he is rarely credited as a leading proponent of any one movement; he would move on before any one of his styles could become old for him, before they could formally take hold in the wider musical world. In fact, his work pre-empted a number of movements, and the spirit of Satie can be heard or seen in the later movements of Dadaism, Minimalism, Theatre of the Absurd, and even Surrealism (Parade was described as surrealist before the movement had been established). He also coined the term 'furniture music', and his frequent 3-piece compositions gave the impression of a multi-angle approach to musical ideas, which could perhaps be likened to the multiple perspectives that can be seen in Picasso's Cubist paintings. Satie's pieces are usually very short, a brevity that lends frivolous and witty character to his works, and possibly further indicates the restlessness of his creative ventures. His pieces don't 'develop' in the conventional sense, in stark contract to the thematic progression that so identified German Romanticism, which held harmony as a strong structural feature. This new approach appealed to the younger generation of composers that was emerging at the time, such as the group known as 'Les Six' (Francis Poulenc, Darius Milhaud, Arthur Honegger, Germaine Tailleferre, Louis Durey and Georges Auric), a collection of French composers experimenting during the 1920s. Satie was also a great influence on his friend Debussy (whose music consisted of Impressionistic blends of sound) and his contemporary Ravel, who went on to compose the famous Bolero – still popular and instantly recognisable now, due largely in part to its use by Torvill and Dean in their Olympic Gold Medal performance in 1984.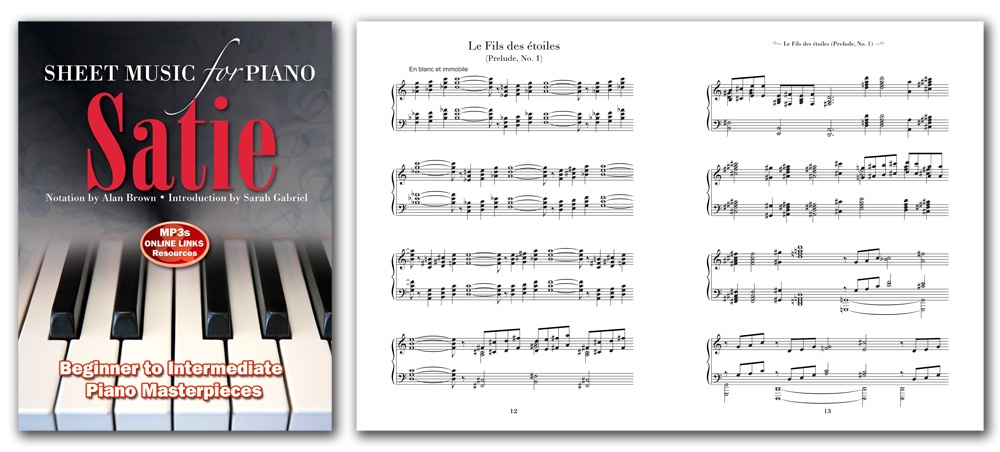 Satie's piano pieces demonstrate the beauty of unsettling, uncluttered sound. If you're already a lover of his extraordinary work, or are simply curious about music that is as eccentric as the man who composed it, take a look at our collection of Satie's Sheet Music for Piano. Including scores for his Gymnopédies, Gnossiennes, Sarabandes, and many more, it can be bought from our website, or via Amazon.
Links:
Have a listen to a compilation of Satie's pieces here.
Want to know more about Satie's place in the music history canon? Our Classical Music Encyclopedia is a comprehensive reference to the major personalities and movements of Western music.
Take a look at a couple of clips from Satie's ballet Parade here.